Google Chrome is a web browser project by Google. Speed, stability and security are of paramount concern to Chrome's developers. Chrome's market share has been increasing.
In fact, my review of Google Chrome was one of the earliest on the web – I noted that it has excellent speed, but lacks several features. Some of those features are now available – you can install extensions in Chrome, backup Chrome profile, install Greasemonkey scripts and block popup ads.


Chrome, however, has had a web installer from day 1. When you download the setup file, you only get a small program that downloads and installs the actual Chrome software (see image above).
Thus, if you have to install Chrome on several computers, you will have to download Chrome on each of those computers. This is, of course a huge waste of time and bandwidth.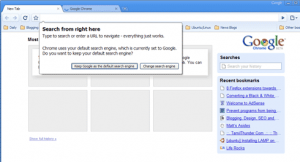 Download Google Chrome offline (standalone) installer
You can install Google Chrome offline by downloading the full installer file from the link below.
Download Google Chrome standalone installer
Other websites which link to the setup file directly, but these links break when Google updates Chrome. We have, however, used a link to the Chrome EULA, so you will always get the latest offline installer by clicking the link above. Clicking the above download link for offline Google Chrome installer takes you to an EULA page where you have to click 'Accept and install' to get the standalone installer file.
Leave the checkbox for 'Help make Google Chrome better by sending user data and crash statistics' empty if you have privacy concerns and/or you use Chrome for sensitive work.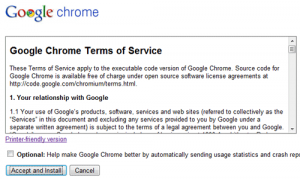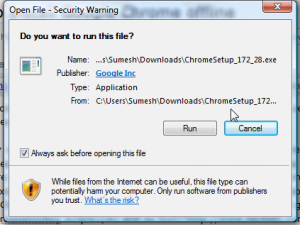 Once Chrome installation is complete, you will get a confirmation:
Chrome should now be installed correctly and working, thanks to our standalone installer. Leave a comment if you have any troubles regarding the download/installation.