Being always on the go can often prevent you from enjoying your favorite game. If you don't play it for a few days, it becomes difficult to get back on track and you end up quitting the game and installing another one. After some time, you find yourself constantly installing and uninstalling different games, or shortly, you realize that your gaming experience is ruined. That's where gaming laptops come in!
Buying a gaming laptop is an excellent way to enhance your gaming experience. On the other hand, maybe you just don't want a desktop computer that takes too much space, but instead, you want to have a display, a keyboard, and all the needed stuff merged into a single device. If the device is also very powerful and provides an immersive performance, it's even better!
To save you time and money, we have prepared this guide to help you out. We are presenting you with the TOP 6 gaming laptops that you can buy in India, for the best price. However, be sure to also check out our buying tips, in case you still want to shop on your own.
Some Quick (And Very Useful) Tips
What GPU do you need?
While some games mainly use CPU, most of the games are still bound to GPU, making it probably the most important component of the configuration. When buying a new laptop, this is one of the biggest decisions that you have to make. However, it doesn't mean that other parts, such as RAM, CPU and good storage are not important.
If you are looking for an immersive gaming experience, you can buy a laptop with GTX 1650 or a similar graphics card in that price range. It won't allow you to play on the highest settings in 60 frames per second, but still, you will be able to run any game at high settings. On the other hand, buying a laptop with GTX 1660 will give you noticeably better performance, and we consider it an excellent investment.
To be able to play most games on high settings, you should aim for graphics cards like RTX 2060. It's also considered the minimum standard for virtual reality, in case you want to use Oculus Rift or HTC Vive. However, it will cost you much more. In the end, if you want the best, extreme performance, you should aim for RTX 2080 Ti. It will provide you with the ultimate gaming experience, but be ready to pay at least Rs. 80,000 for that kind of satisfaction.
Other specs that you should look for
CPU – Besides the graphics card, CPU is another very important part of the configuration. Depending on your budget, you can get a powerful Core i7, or one of those unlocked for overclocking, such as Core i9-9980HK. However, since most games primarily need a good GPU, you can get along pretty well with the Core i5 processor. Another thing that you should keep in mind is that CPUs are not upgradeable, so it's a one-time investment. If you are looking for an older generation CPU, you should at least buy the one with 4, or even 8 cores.
RAM – Most games nowadays consume lots of RAM. For average tasks, we recommend buying a laptop with 8GB of RAM. When it comes to gaming, you should aim for 16GB for the best experience. A good thing is that, if you buy a laptop with low RAM, you can always upgrade it later. You can even do it yourself if you are handy with a screwdriver.
Storage – When we talk about storage, we don't necessarily mean about how many GBs of hard disk space you have. It has nothing to do with gaming performance, but it can impact your gaming in different ways. For example, a laptop with SSD instead of a hard drive will perform much faster. Most laptops come with 1TB hard drive, but it's not uncommon to see laptops with both SSD and hard drive. If you still want to buy a laptop with a hard drive, be sure to get a faster, 7200 RPM HDD, instead of a 5400-RPM HDD. Note that SSDs cost more, especially if you are looking for the ones with larger storage, but you will notice the difference as soon as you start your laptop.
Choosing the right display
Although incredibly important, displays are often overlooked. Unless you want to connect the laptop to a monitor, the built-in display will be how you see all of your games. You shouldn't pay for all that great hardware, GPU, and other stuff, and then ruin everything by not having a proper display.
Size – Most laptops have displays with 15 or 17-inch diagonal lengths, although, some manufacturers even build laptops with 18 or 14-inch screens. The size of the screen depends mainly on your personal preference, but keep in mind that the larger the screen, the heavier the laptop will be.
Resolution – When buying a new laptop, you should never get a display that has a lower resolution than 1920×1080. If you have an amazing graphics card, you might even want to buy the one with 2560×1440, or even 4K resolution. However, running games in higher resolution will consume more hardware power, and you might need to lower down some settings, depending on your configuration.
Refresh Rate – This is one of the most neglected things when it comes to choosing the display. Most laptops that you see will have a Full HD resolution and a refresh rate of 60Hz, which is enough for most gamers. If you want to play games in more than 60 frames per second, you might want to consider buying the laptop with 144, or even 240Hz display, for smoother gaming. However, you will need an amazingly good GPU to take advantage of that amount of frames, while still playing at high settings. Note that some laptops come with Nvidia G-Sync and AMD FreeSync. It's a technology that syncs the display with the graphics card, in order to prevent screen tearing and ghosting.
Choosing the right keyboard
Choosing the proper keyboard is another thing that is usually neglected. And yet, you use the keyboard all the time. Let's clarify what you should look for in a keyboard when buying a gaming laptop.
Key Travel – You might have noticed that keyboards differ by how far the key goes down when you press it. A long travel path might not feel pleasant for gaming, but neither would a very short one. The travel path that we prefer is 1.5mm, but also, you can't mistake by getting the keyboard with a 2mm travel path. It will prevent you from accidentally hitting another key or keyboard frame. On the other hand, you might also want to search for a keyboard with mechanical keys. Those are awesome!
Actuation – It represents how much force you need to apply to a key to press it down. For getting enough resistance and prevent too "soft" feeling, the force you need is around 70 grams. However, note that this data is not always provided when you buy a laptop, or even a keyboard only, so in some cases, you will need to search for that info online.
Anti-ghosting and n-key rollover – These two features play a big role when it comes to providing a smooth gaming experience. Anti-ghosting means that when you press multiple keys for performing specific combos, all the keys will be registered. An N-key rollover means that each key is independent of the others, and will be registered no matter which keys are pressed at the moment.
Backlighting – It's not the most important thing when it comes to the keyboard, but it's nice to have it. Most of the keyboards that come with backlighting will usually provide only red or white light. The best ones have RGB lighting, and some even allow you to customize it depending on the game that you are currently playing.
[table id=23 /]
Top 6 Gaming Laptops Under Rs. 50,000
#1 ASUS TUF FX505DY
CPU: AMD Ryzen 5 3550H | GPU: AMD Radeon 560X 4GB | RAM: 8GB | Storage: 1TB | Display Resolution: Full HD
+ Excellent build and beautiful design
+ Comfortable keyboard
+ Very good processor
− No USB-C port
When it comes to choosing the best laptop for gaming under Rs. 50,000, FX505DY is definitely our top choice. It brings a solid and sturdy build, excellent display, and very powerful hardware for its price. Although it has no USB-C port and comes with an average battery, it's still the best gaming laptop on the budget.
For slightly less than Rs. 50,000, you get a Ryzen 5 3550H processor, 8GB of RAM, a very good Radeon 560X graphics card, and a hard drive of 1TB. Besides, you can add an SSD over time, and even upgrade your RAM to 16GB if needed. This ASUS laptop also comes with a one-year warranty, which is pretty decent.
As you can see, its design is very nice. The exterior is plastic, with no aluminum panels, but it still looks strong. The company states that the laptop is tested for vibration, high altitude, shock force, humidity, and temperature. It's excellent and represents its high-quality built, but we haven't found any mention of liquids testing. Be sure to keep your glass of juice away from the keyboard!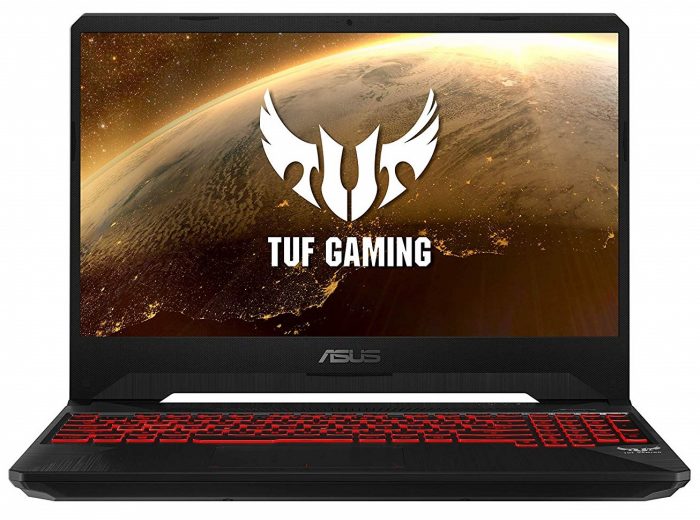 An interesting feature that we noticed at a first touch was the 1.8mm keystroke action. It's much deeper than an average, thin laptop, and feels very pleasant on the fingers. The keyboard provides a soft feeling when you press the keys, and there are also plenty of gaming characters. There is a nice, multi-level backlight, but unlike most gaming laptops, you can't change the backlight color. The touchpad is also pretty good, but of course, you will need a decent mouse for most games. You just can't play Witcher 3 using a touchpad, no matter how good or bad it is.
TUF FX505DY comes with a 15.6-inch screen, which has its pros and cons. At first, it's very good for indoor gaming and watching movies. The contrast of 1431:1 gives the display a bold and rich look, while the mat surface stops reflections, providing a visually appealing experience in its Full HD resolution. However, we are not amazed by the brightness of the display. With 244 cd/m2, even with its matt finish, the display is not amazingly clear when there is a lot of ambient light. It won't be a problem if you play games indoors, but it's definitely not the best solution for outdoor gaming.
Ryzen processor is very good, since it works at 2.1GHz clock speed, and can be boosted up to an amazing 3.7GHz! It provided pretty nice results in benchmark testing and can be a decent desktop substitute for some users. Although you won't be able to play at max settings all the new games, you'll be able to get 60 FPS at mid, even mid to high settings at 1920×1080 in some games. However, playing games at boosted speed will shorten battery life to around 4.5 hours, but that's not a surprise for laptops with powerful hardware that has a high power demand.
If you are looking for a pretty decent gaming laptop in the mentioned price range, and plan to use it mainly for indoor gaming, TUF FX505DY is the best choice.

#2 Asus F570ZD-DM226T
CPU: AMD Ryzen 5 2500U | GPU: NVIDIA GeForce GTX 1050 4GB | RAM: 8GB | Storage: 1TB | Display Resolution: Full HD
+ Excellent quality to price ratio
+ Many connectivity options
+ Very good GPU
− Storage could be much better
One of the reasons why F570ZD is not the first on our list is its storage option. Not only that it doesn't have SSD, but its 1TB hard drive works at 5,400 RPM. Having in mind all the excellent hardware that it has inside, we really expected slightly better storage. However, if you don't mind it's slow speed, you will be satisfied with the performance that this laptop provides.
It's a pretty unique laptop, and also, one of the most affordable in the market, having in mind the performance. With its neat body and brushed metallic finish, it looks excellent. Besides, the keyboard is one of the best that ASUS has ever made. The keys are very soft and precise, and the key travel is perfect. It feels very satisfying to the fingers.
So, having its design in mind, we could notice that the laptop is made only of plastic. However, it feels strong and solid enough for everyday use, and it seems that scratches and even minor bumps wouldn't make a problem. The area around the keyboard, as well as the cover, has a brushed metallic finish that gives it an attractive look, but there is also a neal blue logo that makes a contrast from its black body.
A nice thing is that the display can be opened with a push of a single finger, and it can go a maximum angle of around 120 degrees. However, the lid is quite slim, so you have to be careful not to break it. The display is 15.6-inch, with a 60Hz and aspect ratio of 16:9. The only objection that we have about the display is its contrast. Sometimes, it seems that colors are not vivid enough, which we didn't expect at the laptop of this quality. On the other hand, considering the price, it's not a big deal.
F570ZD offers pretty much when it comes to connectivity. On the left side, there are two USB 2.0 Type-A ports and a 3.5mm jack for audio stuff. On the other side, there is a power port, a port for LAN, HDMI, a USB 3.1 Type-A and a USB 3.1 Type-C port. Besides, there is also a slot for a microSD card. There is no fingerprint scanner, so the quickest way to sing-in on Windows 10 is a 4-digit PIN.
With its AMD Ryzen 5 processor, 8GB of RAM, and NVIDIA GeForce GTX 1050 graphics, this laptop offers amazing performance. On the other hand, as mentioned, the hard drive is pretty slow, which also slows down the whole computer sometimes, but it's not a big problem. However, it would still be better if it came with an additional SSD.
Like most gaming laptops, you won't be amazed by its battery. It can be described as average at best. On a standard benchmark test, the battery score 5 hours and 10 minutes. However, with WiFi and Bluetooth turned on, a 60 percent screen brightness, and a little higher CPU usage, it lasted less than four hours. Then, we noticed that charging from 20 percent to full battery required exactly two hours.
ASUS F570ZD is definitely a model that you should consider if you are looking for very good gaming performance. On the other hand, if you are a student who wants to occasionally keep in touch with new games, but don't want to spend too much on a laptop, F570ZD is, again, an excellent choice.

#3 ASUS TUF FX505DD
CPU: AMD Ryzen 5 3550H | GPU: NVIDIA GeForce GTX 1050 | RAM: 8GB | Storage: 1TB | Display Resolution: Full HD
+ Powerful audio system
+ Very comfortable keyboard
+ 120Hz display
− Not ideal for long-term usage
Don't let the name confuse you, it's not the same laptop as the one that we already reviewed above. Although they differ only in one letter (DD instead of DY), there are still some significant differences, mainly when it comes to the graphics unit.
FX505DD comes with GeForce GTX 1050 and offers an immersive gaming experience. We also noticed that it makes no problems with it comes to cooling performance, processing speed, storage, and similar. Of course, it's not the top of the world, but it's more than just good, having its price in mind. It allows you to play flawlessly various types of games.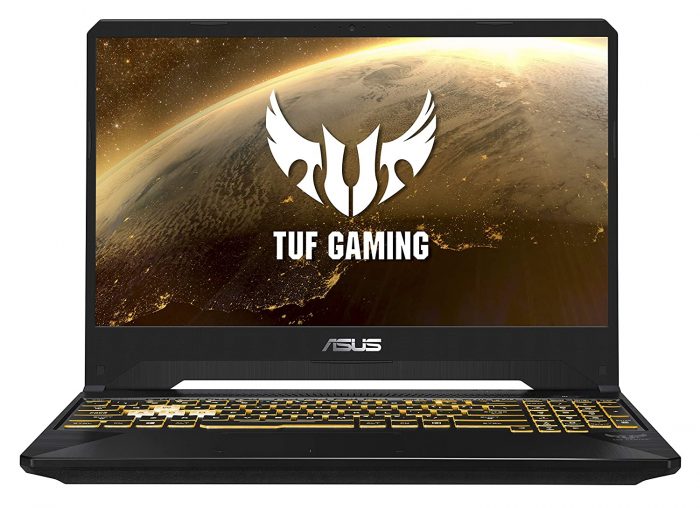 As you might have guessed, FX505DD comes with the same processor as FX505DY. It's a very good processor, so there is no need to worry. A nice thing is that you can buy it in two different color combinations, Gold Steel and Stealth Black. Both look amazing! Besides, it has an anti-glare display that works pretty good, and also supports a 120Hz refresh rate. However, you won't be able to achieve that frame rate in new games, not even in Medium to High settings. You would have to lower the settings for the awesome 120 FPS.
The built-in memory is 8GB DDR4, but you can upgrade it up to 32. Although 8GB might be enough, we strongly recommend switching to at least 16GB. Another very nice thing is that the laptop comes with Windows 10 Home with lifetime validity and while gaming, you will have up to 4.5 hours of battery life if fully charged.
Let's mention that you also get a powerful audio system, a very nice display, and a keyboard that is very comfortable to use. Although the battery life is not great, and the laptop comes for a decent price, it's by all means worth checking out.

#4 Acer Nitro 5
CPU: AMD Ryzen 5 2500U | GPU: AMD Radeon 560X 4GB | RAM: 8GB | Storage: 1TB or 256GB SSD | Display Resolution: Full HD
+ Very good price
+ Storage is easy to upgrade
+ Nice and strong design
− You can't achieve 60 FPS in new games, even at low settings
A pretty decent choice for people who want to get a gaming rig on a budget. You can find it with 1TB or with 256SSD. Neither of these two options is perfect, but you can always add extra storage and have both HDD and SSD at the same time. Upgrading the storage is very easy, and due to its very good hardware, we decided to give it a try.
To be clear, Nitro 5 is not designed for the ultimate, high-end gaming, but it still provides awesome performance. At a relatively cheap price, you get a 2.0GHz processor which can be boosted up to 3.6GHz. It comes with integrated Vega 8 graphics that steal 1GB of the system's 8GB memory, and in general, it's suited for reaching the minimum 30FPS, instead of 60.
Nitro 5 is styled in black plastic, with a nicely textured lid and carbon-fiber palm rest. It's a little bit heavier than the average laptop, around 2.8 kilograms, but it's pretty solid and sturdy. Of course, it depends mainly on you whether you will like its design, but we really like that "tech", futuristic kind of look.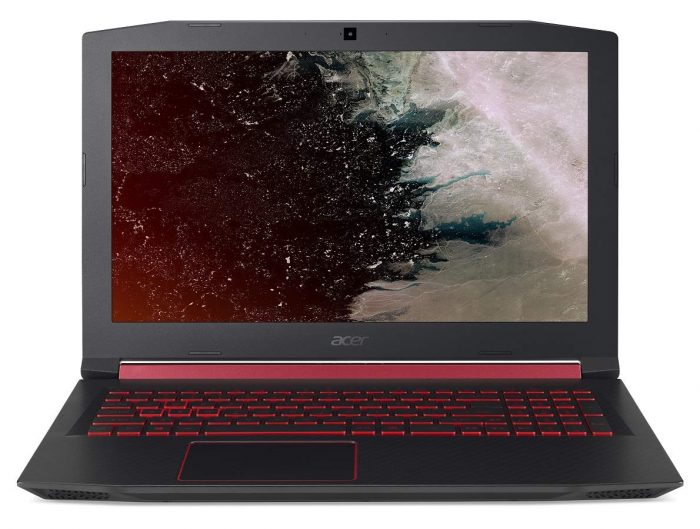 The first downside that we noticed is related to keyboard light. Most gaming laptops have a red backlight, to achieve that special, red-on-black look. However, the keyboard backlight of Nitro 5 is very low, so if you are looking for function-key commands while playing in a bright room, it might be a problem. On the positive side, the typing feel is fine, with quiet feedback and nice travel.
The next thing we did was, of course, benchmark testing. In PCMark 8, Nitro 5 achieved a nice score when it comes to everyday tasks. It includes stuff like word processing, web browsing, and similar. When it comes to gaming, we did most of the testing with "Rise of the Tomb Raider". As mentioned, we were not able to reach 60 frames per second. We reached an average of 43 on Medium setting, but when we tested it on Very High quality, the average was around 30. It's a bare minimum, but it was 30 almost all the time, without going down any further. We also noticed that the average battery time is around 4.5 hours, which is definitely not too much, but it's also not bad considering the price.
Shortly, we can confidently say that Acer Nitro 5 is a very good choice if you want to buy a gaming rig on a budget. However, if you want a hardcore gaming machine, you will have to pay a bit more.
#5 Acer Aspire 3 Core i5
CPU: Intel Core i5 8250U | GPU: NVIDIA GeForce MX130 2GB | RAM: 8GB | Storage: 1TB or 256GB SSD | Display Resolution: Full HD
+ Good battery life, compared to similar laptops
+ Very efficient GPU in its price range
− The cooling mechanism could be more efficient
The first thing that we noticed while testing Aspire 3 was its efficient GPU and pretty decent battery life. Most gamers are usually worried about these two aspects, but Aspire 3 fulfills both. The speakers are pretty good, and the laptop offers many connectivity options.
Acer Aspire 3 comes with the 8th Gen Intel Core i5 8250U processor, with a boost speed of 3.4GHz. It contains 4 cores, 6 threads, and 6MB of cache memory. Another good thing is the graphics unit. The laptop is equipped with NVIDIA GeForce MX130 which has 2GB memory. Due to implemented NVIDIA architecture, the GPU manages to deliver a pretty decent gaming performance. Although Aspire 3 can be considered a fine gaming laptop, it still manages to provide around 7 hours of battery life, which is definitely an upside to this laptop.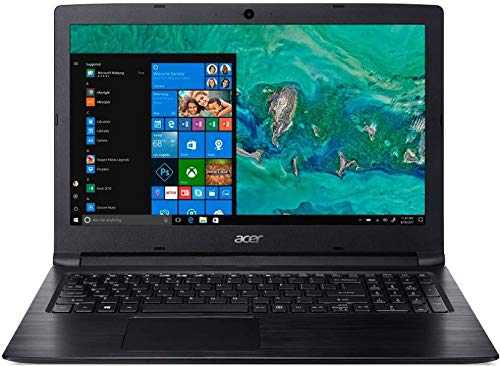 With anti-glare technology and 141PPI density, we can state that the display is very good. It provides a Full HD resolution and has a 15.6-inch diagonal length. It's not immersive or amazing, but it's the standard on many gaming laptops.
When it comes to design, there isn't much to say. The laptop is completely black and looks elegant. Some gamers might prefer a completely different look, but on the other hand, Aspire 3 gives a more "serious" feel. Be sure to check it out!
#6 Lenovo Ideapad 330
CPU: Intel Core I5-8300H | GPU: NVIDIA GTX 1050 4GB | RAM: 8GB or 8GB + 16GB Intel Optane | Storage: 1TB or 256GB SSD | Display Resolution: Full HD
+ Affordable
+ Decent configuration
− Brightness could be better
Ideapad 330 is, probably, not the best choice when it comes to gaming. However, if you are looking for an affordable laptop that can still be considered good for gaming, it's a fine choice.
At first, let's note that the keyboard is not the "gaming" one. Yes, the buttons are big enough, and the keyboard looks fine. However, probably due to a short travel path, it feels like a keyboard that should be on an average laptop, built for daily tasks. After some heavy gaming, you might even feel a bit of discomfort in fingers.
On the other hand, Ideapad 330 comes with a decent i5-8300H CPU, that works at 2.3GHz base speed, which can be boosted up to 4.0GHz. It also comes with 4 cores and 8MB Smart Cache.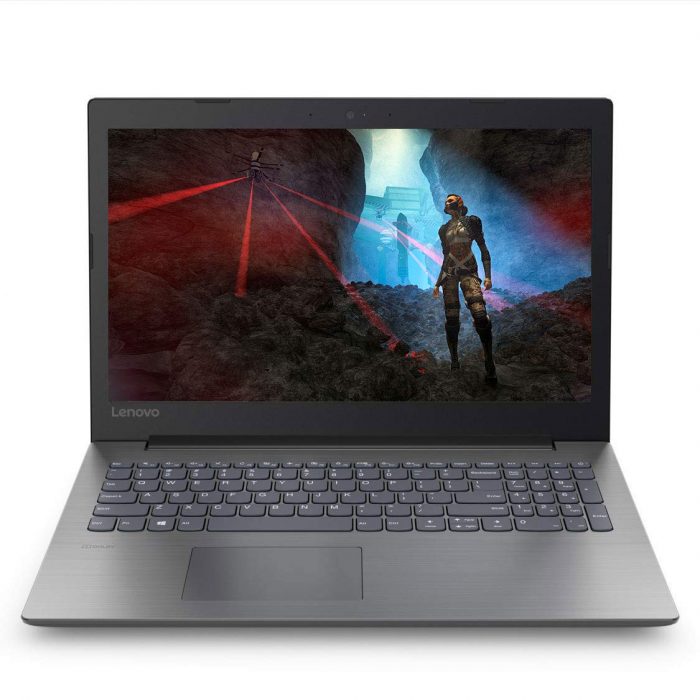 The display is pretty much satisfying. It provides a Full HD resolution and an anti-glare technology, but due to its relatively low brightness, it's not ideal for playing in a bright room. However, if the light condition is good, you will be amazed by the sharp and crystal image.
When it comes to hardware, you can find the Ideapad 330 in three variations. The first and the best one comes with GTX 1050 4GB and 8GB RAM + 16GB Intel Optane memory. The other variant offers the same GPU with 2GB and 8GB of RAM. Finally, the third version comes with 8GB RAM and the same graphics unit as the first one. They all have different price tags, so be sure to clarify how much power do you actually need.
In the end, let's mention the connectivity. No matter which variant you choose, connectivity options are the same. Therefore, the laptop will come with 2 USB 3.0 ports, a single USB 3.0 Type-C port, an HDMI, a 4-in-1 card reader, LAN port, and combo jack for audio and microphone. Note that it has no optical drive.

FAQs
What GPU should I look for?
Honestly, there is no company that will offer you a GTX 1650 in that price range. You don't have much choice, and all the GPUs in that price range are relatively similar. Our strong advice is to choose any laptop from the list since they will all run your games decently.
How important is battery life?
When it comes to gaming laptops, you should realize that due to their powerful hardware, they consume lots of power. Therefore, no battery will provide you with 10 hours of non-stop gaming experience. Be sure to always keep your charger with you.
Which is more important – CPU or GPU?
As we mentioned above, both are very important. However, if you need to choose, always aim for a better GPU, unless you need your laptop for work, video editing, and similar. The fact is that video games are mostly dependant on a graphics card in the first place.
Best Gaming Laptops in India Under Rs. 50,000
Best Gaming Laptop with GTX
GTX is something that every gamer is looking for. If you are no different, then we strongly advise you to consider buying Asus F570ZD-DM226T. It might be a little bit pricey, but it's still under Rs. 50,000.
Best Gaming Laptop with 4GB Graphics Card
Another important thing to consider is your GPU memory. Having a 4GB GPU is awesome, and if you have enough budget, check out ASUS TUF FX505DY that we reviewed above. Not only that you get an excellent graphics card, but the other components are also one of the best that you can find in that price range.
Best Gaming Laptop with i7 Processor
Finally, if you are looking for i7 CPU, your best choice would be Lenovo Core i7 8th Gen. We noticed that its price often goes slightly below and above Rs. 50,000, but still, it makes no significant difference.
The Cheapest Gaming Laptop in India
Nowadays, laptops can be found for quite a low amount of money; however, it doesn't grant that you can use them for gaming. If you are looking for a gaming laptop for the lowest price possible, you should check out Lenovo 130. It comes with 4GB of RAM, 1TB of storage, and relatively good CPU and GPU. Besides, you can buy it for less than Rs. 15,000.
Conclusion
Let's sum it all up in the end. If you are looking for the best, definitely the best gaming laptop under Rs. 50,000, you should aim for ASUS TUF Fx505DY. There are a few other laptops with similar specs, but ASUS has won the battle. On the other hand, if your budget is slightly tighter, you should aim for Acer Nitro 5. Also, if you are not looking for the best gaming performance, but still want a gaming-oriented laptop at a reasonable price, be sure to check out Lenovo Ideapad 330.
Do you own any of these laptops? Or maybe you think that we missed some great models? Please let us know in the comments below.