Buying a printer is a great way to transfer your virtual media onto a physical piece of paper. Whether it's a high-resolution image or a black-and-white document, printers are there to help. However, buying a photo printer is not the simplest task to do. There are various things to consider before you buy one, so in this article, we will clarify all those things for you. We have listed the best photo printer that you can buy in India, but if you still want to shop on your own, be sure to read our buying tips first.
Dedicated or near-dedicated photo printers?
As you might know, there are all-in-one printers in the market that offer printing and scanning with a range of various features. However, neither dedicated nor near-dedicated printers come in the all-in-one category. On the other hand, they do provide additional features.
At first, most of the dedicated printers include menus to help you edit your pictures. Some of them even come with a large screen to help you navigate through all the options available. Also, some dedicated printers are built into other devices such as photo booths or instant cameras, which is pretty interesting.
Note that you wouldn't get as many options in near-dedicated photo printers. They don't come with the features available on the dedicated printer but they are capable of printing documents. However, it might seem like it is a waste of money to buy a printer only to print documents.
In case you want to print an office document on a near-dedicated photo printer then you would need to swap out the ink cartridges to replace the paper type from glossy to plain. If you're looking to get a non-dedicated photo printer to get your documents printed as well, then we suggest getting a printer that would allow you to easily switch between glossy and plain paper. Otherwise, the entire process becomes cumbersome.
Wireless or Non-Wireless?
Another thing that you need to consider is the mode of connectivity. How do you want to print your photos? Dedicated photo printers come with a USB connectivity option whereby you can connect your computer or laptop to it and print. However, with the recent models, we are seeing a lot of the printers equipped with wireless connectivity. Some of these models even allow users to print straight from the USB drive or an SD card.
Near-dedicated photo printers come with a USB connectivity just like any other office printer. They even have room for a second USB connection to enable sharing between two computers. Some variants of these printers have ethernet connectivity, while some newer models of near-dedicated photo printers come with wireless connectivity options.
What is your desired output quality?
Dedicated printers usually have an excellent output quality. However, there are some variants out there that use ZINK technology which allows users to print 2 by 3 inches or 4 by 6 inches print size. The output quality for such printers is fairly low but those photos are considered as good quality photos for the purpose they serve, which is keeping them in the wallet.
Near-dedicated photo printers offer professional printing quality that might pass up as a photographer's gallery prints. Both these types of printers offer superb quality and you have to check your needs and buy accordingly. You should always check what types of papers are available for a printer whenever you go to the printer's store. The type of paper makes a significant difference in the output quality of a photo. Note that near-dedicated printers have an assortment of papers to choose from.
Another issue that falls under quality is the ruggedness. Fine-art papers do not offer ruggedness. However, printing 4 by 6 stacks is a different scenario. These photos need to be rugged enough to be waterproof and scratch-resistant and dedicated photo printers can do exactly that.
Another thing that affects photo quality is its lifespan. Many manufacturers claim that their photo prints might last a certain amount of years. However, that also varies according to the environment these prints are exposed to on a daily basis.
You might also be interested in thermal photo printers. The fact is, they don't offer an immersive picture quality, but they are usually very affordable. If you are an enthusiast looking for an affordable thermal printer, you should check out Canon Selphy CP1300, which costs around $100. On the other hand, you should note that inkjet printers might be a nice solution if you are looking for low start-up costs. Those can also print on various types of paper and there is almost no warm-up time before printing. Among all of the inkjet printers in the market, our favorite is definitely Canon E560.
Is speed your priority?
If speed is your main priority, unfortunately, you need to make a compromise between having a photo printer or an inkjet printer. If the quality of the print is your main priority, then note that even the photo printers come with a decent printing speed allowing users to print a high quality 4 by 6 inches photo in around 2 minutes.
Bear in mind that most manufacturers claim to have better printing speeds than they actually do, but don't worry; we are here to tell you what is the real-world scenario. The measured speed might vary depending on the printer's connectivity, quality, and paper type. But does the printing duty cycle matter?
The rule of a thumb, when finding out the maximum number of prints the printer is capable of per month, is to make sure that the maximum number of prints per month is lower than your expected monthly printing targets. Unfortunately, manufacturers for both dedicated and near-dedicated printers don't mention the maximum number of prints per month. If you'll be doing heavy printing and are really concerned about the maximum number of prints per month and the manufacturer hasn't mentioned that detail, it is better to leave that printer and look for other alternatives that might suit your needs.
[table id=30 /]
Top 6 Best Photo Printers in India
#1 Epson L805
Dimensions: 547 x 289 x 187 mm | Tray Capacity: 50 Sheets | Display: No | Print Resolution: 5,760 x 1,440 DPI
+ Superior print quality
+ Print speed
+ Direct printing on CDs/DVDs
− Print cost is a bit high
Epson L805 is an ink tank printer that comes with wireless connectivity. The printer flaunts broad features at a great price. It is considered to be one of the cheapest photo printers available on the market, for the quality that it offers. The printer comes in 547 x 289 x 187mm and weighs only 6 kgs. Epson L805 is designed for use in tight office spaces since its sleek looks and high-quality plastic makes it look exquisite even in the smallest of spaces.
Epson L805 is equipped with the latest technology Epson has to offer. It is equipped with piezoelectric printing technology with micro piezo delivering durability and fast print speeds. It can print at a resolution of 5,760 x 1,440 dpi, 5 pages in a minute. The printer is able to support up to GSM 80 pages with a holding capacity of 50 pages at a time and it comes with various tray options. You can even print CD and DVD covers with it.
Connecting your devices has never been so easy. You can connect your phone through wireless connectivity or OTG cable or simply use a USB for your older computer or laptop. The printer was designed to be able to pump out beautifully printed color pages at a fraction of the ink cost. It boasts 6 types of ink compared to the traditional 4 types in an ink tank. It also comes with a warranty of one year or 3000 prints, whichever comes first.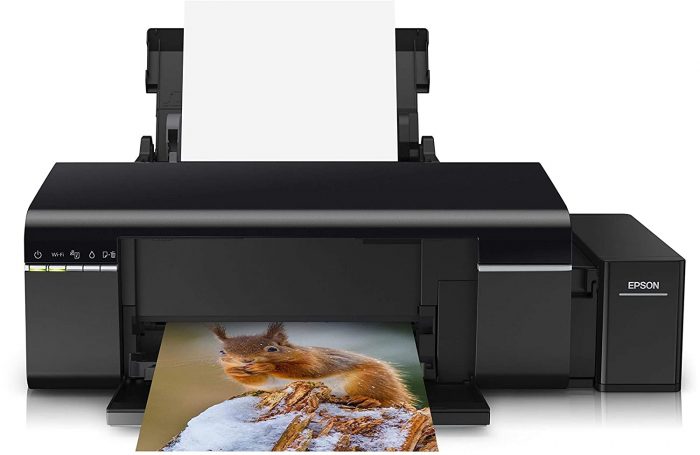 However, there are some drawbacks that you should consider before purchasing this beast of a printer. Epson L805 is recognized as a low-cost printer but the monthly costs are relatively higher than other ink tanks available at this price point. This is due to the high-quality color prints the L805 is able to produce.
If you're planning on using this printer on a daily basis, one month or 3000 pages warranty suddenly starts to seem like it's not enough. The insufficient warranty might put off some professionals looking for a professional printer. On the other hand, if you are not looking for frequent, daily use, you will be overly satisfied.
There is one more thing to consider before purchasing Epson L805. Many printers that come at this price point feature automatic document feeder. This is absent from the Epson L805 and leads to disappointment and manual intervention for users who wish to print on both sides of the paper.
Epson L805 runs on a standard 220-240V outlet drawing on 13W of electricity when printing and is surprisingly silent reaching only 36 decibels while printing. This is much different if you compare it to most of the other printers in the same price range, which are pretty loud.
If you're a professional looking for high-quality colored printing in bulk, then look no further. Epson L805 is the perfect printer for all your high-quality colored printing needs. If yield per page or the cost per page doesn't bother you, then this is the right choice for you. However, if you're looking for something easy on the wallet and decent printing quality, then there are more suitable options in the market available for you.

#2 Epson PictureMate PM-520
Dimensions: 265 x 196 x 137 mm | Tray Capacity: 50 Sheets | Display: 2.7-inch LCD | Print Resolution: 5,760 x 1,440 DPI
+ Good for studio owners
+ Very simple navigation
− Page size limitation
Epson has been leading the market with innovation, and this time, they added PictureMate PM-520 to their growing portfolio. Weighing around just a measly 2.3 Kgs, it is considered to be one of the lightest color printers in the market. The printer is also portable, measuring 265 x 196 x 137 mm, and can fit in the tiniest spaces.
PM-520 features a 2.7-inch screen with a navigation button only. The interface is simple to use, offering a direction pad, home, back and help buttons. You can easily navigate through the options since they are simple, intuitive and smooth.
The printer offers both wired and wireless connectivity to the users. Wireless connectivity is performed through USB, SD card and WiFi, while the setup is fairly simple and quick. Using a wired connection, it is simply plug-and-play. If you're looking to connect your printer wirelessly, simply add your network connection to the printer using the button interface. You will be required to download the Epson application on your device that you choose to use for wireless printing, and you're done. Wireless connectivity allows for 4 computers or devices to be connected at the same time without the need for a router, which is pretty awesome.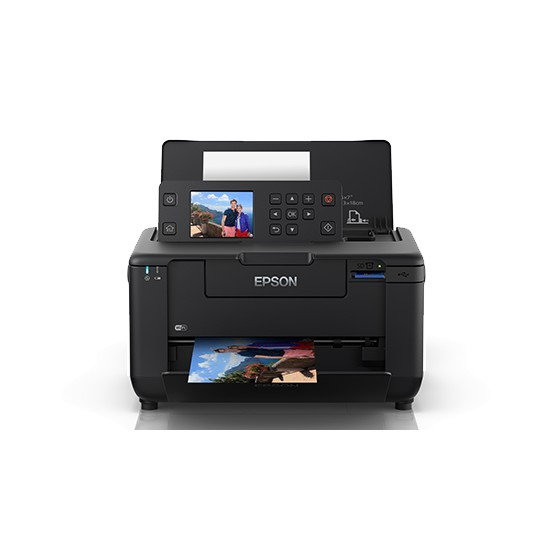 Epson PictureMate 520 comes equipped with one paper tray and an input capacity of 50 sheets of A5 plain paper (75gms). You can even load up to 20 sheets of premium glossy paper. The printer can cater to various paper sizes ranging from A5, A6, 9 x 13cm, 10 x 15cm, 13×18 cm to envelopes and C6 paper configurations. It has a lot of capacity for input, but unfortunately, its output holding capacity is not something to boast about. Its output tray can hold up to 20 pages at a time, either plain paper or glossy.
The printing speed is relative to the output quality. A 10 x 15 cm borderless photo can take up to 36 seconds to print. As you change the page size, the print quality and the paper type, the printing speed starts to vary. PM-520 offers 5,760 dpi through variable-sized droplet technology ensuring amazing picture quality with vibrance that lasts.
A lot of printers that have fast printing speeds compromise on the noise they make during printing. However, with the PictureMate 520, whether you're printing the best quality photo or a standard plain default print, it only generates about 40 decibels, which is considerably lower than what other manufacturers are offering in the market. We can confidently say that Epson PM 520 is relatively fast and reasonably silent while printing.
The printer also comes with an optional battery pack. This is a unique feature and not available in most of the printers in the market. With an optional battery pack, you can print your pictures anywhere at any time, which is perfect for outdoor users.

#3 Canon Selphy SCP1000
Dimensions: 178.0 x 135.0 x 60.5 mm | Tray Capacity: N/A | Display: 2.7-inch LCD | Print Resolution: 300 x 300 DPI
+ Small and lightweight
− Cost per print is slightly high
Canon Selphy SCP1000 is a small, portable and lightweight photo printer that can fit in any tiny office or home space. With the dimensions of 178.0 x 135.0 x 60.5 mm and the weight of 840 grams, it falls into a super light printers category. SCP1000 has a convenient button interface to navigate through its 2.7-inch colored screen. It allows you to easily store your print settings allowing convenience at its best. Besides, it's capable of operating on both Mac and Windows.
Canon Selphy SCP1000 uses a dye-sublimation thermal transfer printing system. It has 3 ink colors with protective overcoating resulting in a maximum of 300 x 300 dpi. The printer is capable of printing various sizes with a maximum of 148 x 100 mm page size. The manufacturer claims to have 100-year image longevity but it all depends on the environment the photo is exposed to.
Although SCP1000 might be small and elegant it boasts several printing modes, which are select & print, all image print, DPOF image print, ID photo print, and cropping. It doesn't come equipped with WiFi connectivity but allows for USB and memory card connectivity options. It is also Pict bridge compliant which means that you can print straight from the camera.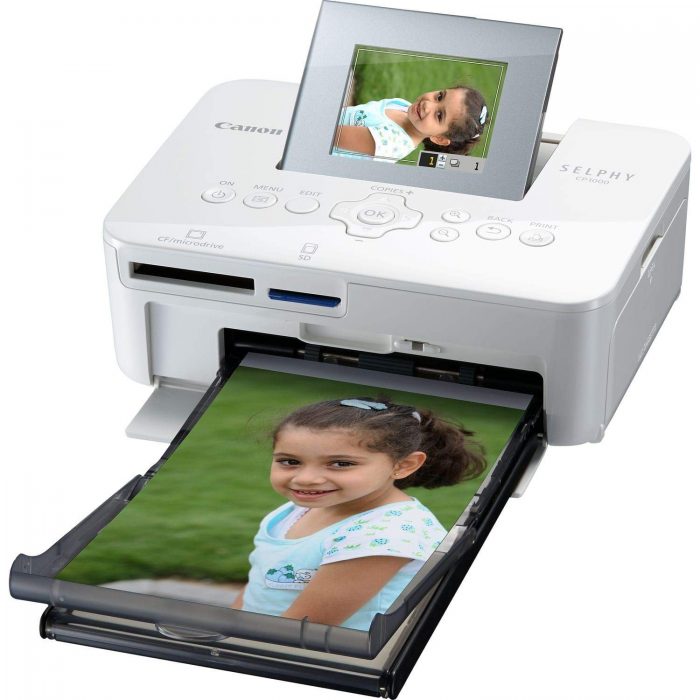 SCP1000 has different print settings ranging from glossy, semi-gloss, borders and brightness to smooth skin, red-eye correction and ID photo priority. All of these settings and the dye-sublimation technology ensure that the print quality output is superior compared to other options on the market. You can also enhance the photo by using the inhouse settings available from auto image optimization with the scene to face detection.
We noticed that SCP1000 is capable of delivering professional quality images, however, the speed is relatively slower than the alternatives available on the market. The printer can print postcard size in about 47 seconds, credit card size photo in around 27 seconds and mini stickers in also around 27 seconds. This is not a super-fast printer but it does get the job done. It also features a power-saving option and two USB connectivity ports for connecting your camera or computer to it. There is an optional battery pack that is able to deliver 36 prints on a single full charge.
All in all, the Canon Selphy SCP1000 is a compact yet elegant printer capable of printing superb quality photos while it is able to fit on your table or inside your bag to travel with you. It is the right choice for those on the go all the time. Be sure to check it out!

#4 Canon Selphy CP1200
Dimensions: 180 x 137 x 65 mm | Tray Capacity: N/A | Display: 2.7-inch LCD | Print Resolution: 300 x 300 DPI
+ Can print on various paper sizes
+ Pretty decent battery
− A bit slower than some printers in the same price range
Canon Selphy CP1200 is a compact photo printer which can print credit card size(86×54mm), Postcard size(148×100mm), credit card size stickers(86×54mm), square stickers(52×52mm) and mini stickers(22.0×17.3mm) images. This compact printer measures 7.1×5.4×2.5 inches, and weighs a little less than 2 pounds, excluding paper, ink, cartridge and power adapter.
It comes with a decent battery which is estimated to last up to 54 snapshots on a full charge, and it takes about 4 hours to fully charge. You will need to tote the power cable and power brick, which is roughly around 5.1 × 2.5 × 1.25 inches. The CP1200's 2.7-inch color LCD tilts up to 45 degrees vertically, which we found to be pretty useful.
Setting up the Selphy is easy, as you simply have to insert the paper tray and the ink cassette, and that's it. There is also a mini USB port for connecting to a computer, and connecting the printer on the wireless network is also simple. Android users have to use the Canon Print Inkjet/Selphy app which can be inconvenient if you need to navigate through many pictures, while iOS users have it easy because AirPrint compatibility lets them print using other iOS apps. Using the CP1200's mini USB port, it's also pretty simple to print from the USB thumb drive.
The control panel of the printer has dedicated buttons for menu, Wi-Fi, zoom out, zoom in, back, and print and edit. The buttons have good responsiveness compared to touch panels and touch screens of other printers.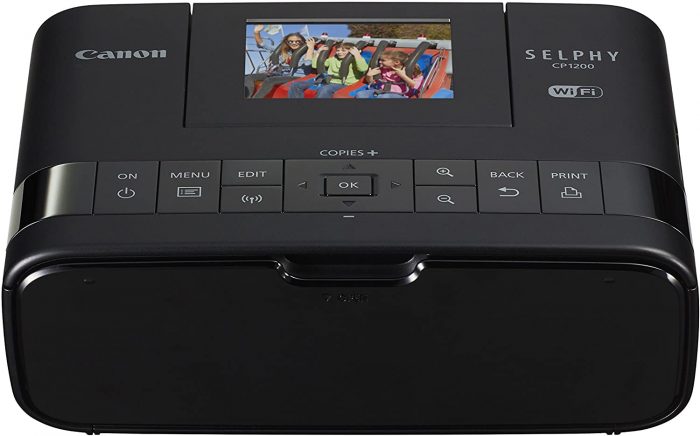 The Selphy prints out a 4 by 6 print in 53 seconds since it uses the 4 Pass printing process. However, printing wirelessly takes a bit longer. For example, if the direct connection from a PC is used, it takes about 1 minute and 32 seconds, while using a wireless network it takes about 1 minute and 45 seconds. Compared to this, Polaroid Zip (portable photo printer) took about 55 seconds using a wireless connection, although the print size is smaller. The HP Envy 5540 takes 1 minute and 5 seconds to develop a 4×6-inch print using a wireless connection. However, this printer lacks portability.
CP1200 makes high-quality prints by printing at up to 300 by 300 dpi, with 256 levels of color and produces prints with sharp details and vibrant colors. You can choose for the print to either have a glossy or semi-gloss finish, as well as a border or borderless prints. The prints you end up with have a pleasant saturation and the colors look very vibrant.
Buying the 108-sheet pack of 4 by 6-inch paper and ink cassettes ($36), will make easy print cost 33 cents while buying the 54-sheet pack brings the price up to 43 cents per print. It's still pretty decent.
The Selphy CP1200 ranges at a moderate price and offers a high-quality print, portability, easy-to-use control panel, and LCD, while on the other hand, the battery is pricey and lasts only 54 prints. Besides, it takes 4 hours to fully charge, so you should keep that in mind, too, especially if you plan to use it frequently.

#5 Kodak Mini 2 HD Wireless Printer
Dimensions: 78.2×132.4×25.4 mm | Tray Capacity: N/A | Display: No | Print Resolution: N/A
+ Smaller than its predecessor
+ Pretty good print quality
− Mobile app crashed a few times during testing
The Kodak Mini 2 is a wireless printer that can print 2.1×3.4" photos directly from Android or iOS devices without the need for cables or buttons. It means that compared to non-wireless printers, it's less of a hassle to use. The photo size mentioned above is a standard credit card size and the photos printed are guaranteed to be of top-quality. The dimensions of the printer are 3.0" W ×5.2" L ×1" D(78.2×132.4×25.4mm) while it weighs only 238g, making it suitable for carrying with you in a backpack or purse. The portability of this device is really useful whenever you need to print pictures on the go since you can simply reach into your backpack and pull out the printer.
Mini 2 features a sleek design, in the shape of a rectangle with smooth edges and easy access to the power button. This printer has a slip resistance and a more durable bottom and it comes with a fairly simple control system. You will notice that there is a connection LED on one side and charge LED and micro USB port on the back, which adds up to its elegant design.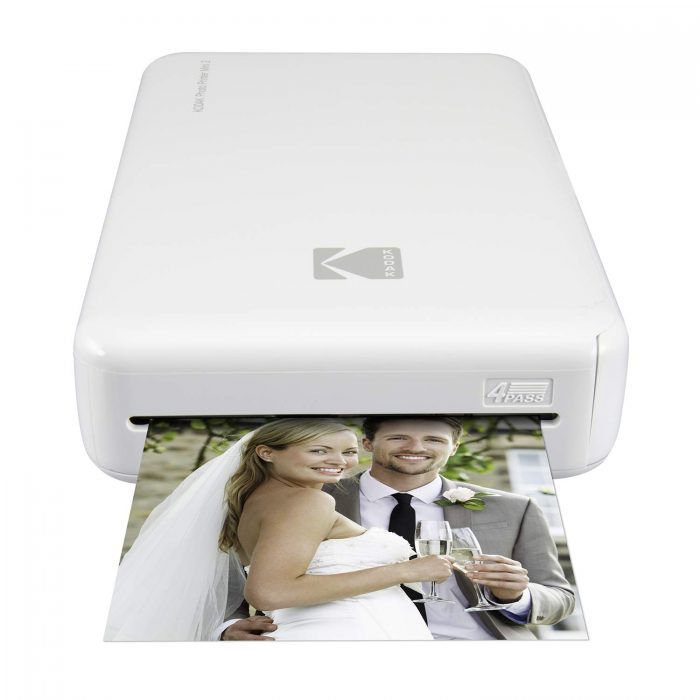 This printer is great when it comes to wireless capabilities, as it is compatible with NFC technology as well as Bluetooth. NFC stands for Near field Communication, which simply put, means that you only have to tap your Android device on the printer and you will be instantly connected. Mini 2 comes with a built-in 620mAh rechargeable lithium battery with a charge time of 1.5 hours, which allows you to print 20 photos per charge. It might seem a bit inefficient for someone who takes many pictures while traveling or attending an event, but as long as you have a charging cable, you are good to go since the charge time of 1.5h is really fast.
Each print takes about 50 seconds to finish, and considering the sophisticated printing process, it's a justified amount of time. It utilizes 4Pass printing technology and is capable of printing up to 16.7 million colors, which is awesome for a portable printer. The compatible cartridges come in both color and black ink, while the paper is waterproof and fingerprint-proof. The Printer app is easy to use and understand and is available on the iTunes App Store and Google Play. The app is ready to use as soon as it's downloaded, without requiring an account or sign in.
We should mention that the quality of the images is a great improvement from its predecessor the Kodak mini Portable Photo Printer, but it is still not as vibrant and sharp compared to prints from a larger printer. Mini 2 does have a few drawbacks that could use improvement, like the number of prints per charge and the USB cable for charging. If the printer came with a full charger, users could charge the Printer without the need for a laptop or computer. Overall, the positive attributes outweigh the few negatives and make the Kodak a pretty decent device to purchase; however, if you are looking for a professional device, then there are better options available out there.

#6 Canon SELPHY CP910 8426B001
Dimensions: 178 x 127 x 60 mm | Tray Capacity: 18 Sheets | Display: Yes | Print Resolution: 300 x 300 DPI
+ Incredibly portable, having in mind that it's not considered a "portable printer"
− The resolution could be slightly better
− Wireless problems might be too big for persons who are not technically inclined
The Canon Selphy CP910 is an excellent photo printer that can print directly from your phone. With the dimensions of 7 ×5 ×2.4inches, the device is incredibly portable and you can easily fit it into your purse or even a small backpack. The CP910 is one step up from its predecessor, the Canon Selphy CP900, by including the Access Point mode, which is equivalent to Wi-Fi Direct. With this feature, you can launch Canon's Easy-PhotoPrint app on your Android or iOS, picking a picture and printing it without the need for wires. CP910 also eliminates the need for a connection between the printer and a network, making it the easiest way to print photos from a tablet or phone.
The Canon Selphy CP910 uses the same consumable packs, with the dye roll and paper sold together, and it costs about 33 cents per photo with the large economy size pack. With this printer, you can even enhance the portability with an optional battery ($79.99), which allows you to take it anywhere to print from your phone or other devices. There is also an option to print from your camera by connecting it with a cable or by Wireless PictBridge if your camera supports PictBridge(which is available on Canon cameras).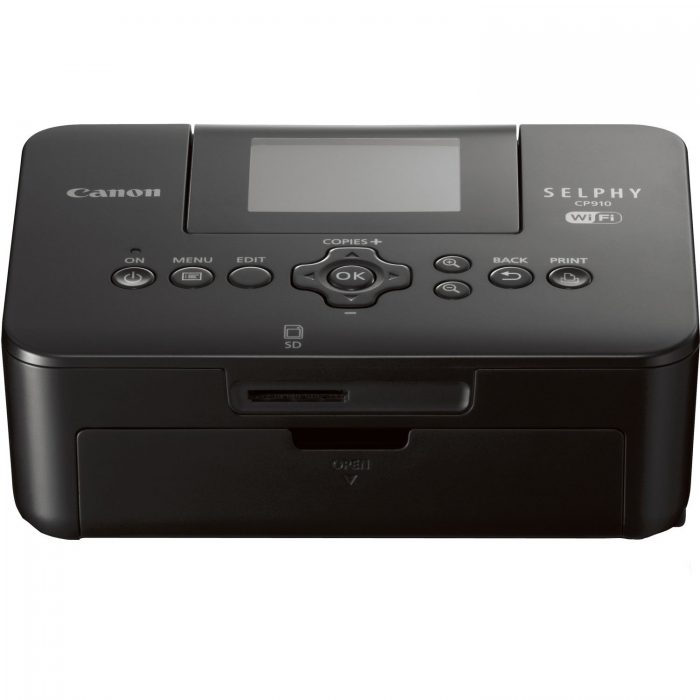 The Canon Selphy CP910 has a Total Media Capacity of 18 sheets and comes with a Max Media Size of 4" × 6". It prints at the speed of up to 0.8 min/page while printing from the computer takes about 1 minute. On the other hand, while using a camera, memory card or USB drive, it takes around 50 seconds. These speeds are similar to the speed achieved with the Canon CP900, but the Epson PictureMate Show performs faster, printing in about 41 seconds using a computer. However, printing over the direct wireless connection adds an extra 20 to 30 seconds per photo because of the time needed in sending the data from the phone to the printer. This becomes kind of a problem if you need to print a batch of photos since the extra time will add up.
The Canon Selphy CP910 uses dye sublimation printing technology and the photo quality is not the best; however, it's good enough as its max resolution is 300×300 dpi. A minor issue that seems to exist in most Canon 4 x 6 photo printers is, when printing from a computer, thin diagonal lines appear at some angles. It, however, only shows up in a small percentage of images and only when printing from a computer.
If we do a quick comparison, a better choice would be the Epson PictureMate Charm because the PictureMate Charm offers faster printing time and has a better output quality and a lower cost per photo- about 7 cents per photo. However, the Epson PictureMate lacks Wi-Fi Direct and that leaves Selphy CP910 as a strong contender.

Best Photo Printers in India: Bonus Tips
Best Photo Printer for Studio
If you are looking for an ideal printer for your photo studio, Canon Pixma Pro-100 is definitely the best choice. With the paper capacity of 150 sheets and excellent color accuracy, we are sure that it will completely satisfy your needs.
Best Photo Printer for Home Use
HP Envy 5055 is, according to numerous satisfied customers, an ideal solution for any home. It's very affordable, easy to use, weighs only 5.4 kilograms, and offers a paper capacity of 100 sheets. Awesome!
Best A3 Photo Printer in India
For all the people looking for an ideal A3 printer in India, Epson WorkForce WF-7210DTW is the best solution. It offers duplex A3 printing and prints at 18ppm. Although the ink is a bit pricey, it's definitely the best solution on the market.
Best Photo Printer Under Rs. 15,000
15,000 rupees is a pretty reasonable price for a photo printer. If you want to buy a printer in that price range, your best choice is definitely Epson EcoTank L3150. It offers WiFi connectivity and has a flawless mechanism to rely on.
Best Photo Printer Under Rs. 10,000
If you are looking for a bit cheaper solution, the best photo printer under Rs. 10,000 is HP 410. It also comes with wireless connectivity and supports various page sizes, including A6, B5, A4, and DL envelope.
Best Portable Photo Printer in India
Portable photo printers make an ideal solution for people who want to print on the go. If you travel often and want to immediately have the physical pictures of the stuff that your camera captures, your best solution is to get the Polaroid Zip Mobile Printer or Canon Selphy SCP1000. They're a bit expensive but offer an immersive picture quality.
Conclusion
Obviously, the best photo printer that you can buy in India is Epson L805. However, depending on your needs and your budget, you might find any printer from the list suitable. Canon Selphy CP1200 is also a great solution if you want to get high-quality prints at a moderate price.
If you have ever used any of the printers from our list, please share your experience in the comments section below.