Archiving and extracting files can be done in Windows XP and upwards with the help of built-in tools. However, as with many other things, built-in utilities tend to have very little tweakable options and power features. For anyone that desires better features, the built-in archival utility is not the right option.
IZArc is a freeware archival application for Windows. It has all the normal features expected from an archival application: zip and unzip archives, create self-extracting archives, create normal archives from self-extracting archives, encrypt/decrypt archives.
However, it also has other 'extra' features, like extracting individual files from a ISO file (CD image), repair archives, create multi-part archives and merge multi-part archives into one. What this means is that IZArc is a very powerful archival program, with many features not found on similar programs (even paid ones).
In fact, it was such extra features that helped me extract DAA file without using the expensive PowerISO [see tutorial to extract DAA files]
As you can see from the screenshot below, the window is simple and uncomplicated. Once you install IZArc, you can configure it to associate with archive files. Then, double-clicking archives will bring up IZArc with options to extract files. You can also choose the location easily.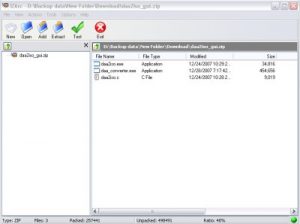 Tip: Instead of double-clicking files, right-click archive file, hover over 'IZArc', and choose Extract to .\<filename&gt