Zynga Poker limits players receiving free chips from friends in the game.
When a player hits limits on the free poker chips (s)he can receive on Zynga Poker, you cannot send chips, no matter how many chips you have and how many you are allowed to send.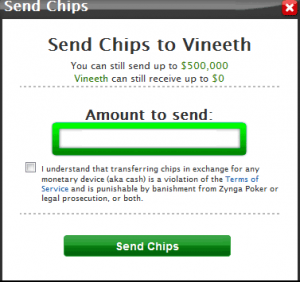 A workaround that my poker crazy (and chip-starved) friend suggested let me send him some much needed chips. Of course, he sent me back 5x after he had made more chips, so it ended up being a win-win for both of us.
The workaround is rather simple when you think of it, and it will probably help many poker addicts.
Find an empty table, and you and your friend should sit on it at the same time. Make sure nobody else joins you – you'll have to be quick in your actions.
Every round, raise your bet to the maximum possible (ALL IN), and once your turn has passed, stand up from the table, without leaving it. This will cause your buddy to get all the chips from the round. Repeat this as many times as you want. You don't have to ever leave the table, unless someone else joins the table (that happened to me). In that case, simply leave the table and find another one and repeat the process.
It is a simple trick that works beautifully, and does not really break any Zynga rules about selling or sending coins to your friends.