FullonSMS is a website that allows you to send full 160 character, free SMS to mobile phones in India. You have to register with your mobile phone number to start sending messages.
You can send messages to any phone in India. You may have already used many other SMS services. Unfortunately, such sites restrict your message to 140 characters and insert an ad at the end of each message, in addition to ads-only messages at other times. You cannot really blame such sites since that is their only possible way of monetizing effectively. What distinguishes Full On SMS is that it does not insert any advertisements or links into messages that you send.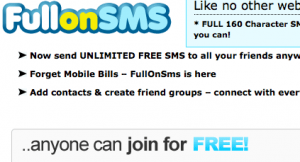 Users in India benefit from free SMS messages which would otherwise be charged per SMS or on an offer of bulk SMS for which you have to pay a fixed rate up front. Also, users with friends/relatives in India can send them free SMS by simply logging onto FullonSMS – no more sending international SMS, and with the ease of use which is unmatched by email.
You can add contacts to the site for ease of use, and you can also create groups of contacts to be messaged at once. This is very useful for group SMS that is so typical of regular short messaging users.
Visit Full on SMS
How to register / signup at FullonSMS
Visit FullonSMS.com
Enter your mobile number, email address and other necessary details and hit "Create my free account".
FullOnSMS.com login page
I noticed that lots of visitors are searching for the Full on SMS login page. You can sign in to Fullon SMS website at fullonsms.com/login.php or with the log in form on top right of the home page.