Clicky Gone is a small Windows software to hide application windows with a single key ("Boss Key") or with two clicks.
Clicky Gone can hide windows on the desktop and remove tabs from the task bar. It will be very helpful for those with privacy concerns – at work and at home, against prying eyes.
Other than the shortcut keys and right-clicking application title bar and clicking Hide, you can also hide the windows completely. Clicky Gone can also be configured with a system tray icon to show windows.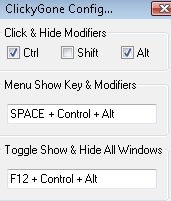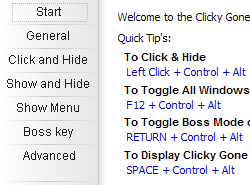 There is also a portable version of Clicky Gone, so you can carry it around in a USB drive, for instance.