Photoshop has a Save for Web feature by default, without installing any plugin. However, you need to install a GIMP plugin called Save for Web to get the same functionality. Save for Web allows you to optimize images for web, by reducing file sizes greatly.
Installing plugins in GIMP takes only a few simple steps, detailed below:
If you use GIMP on Ubuntu, follow instructions in the tutorial Install Save for Web in Ubuntu.
Install Save for Web GIMP plugin in Windows
Download Save for Web plugin (if you haven't do so already)
Extract Save for Web plugin somewhere – for example, Desktop.
ADVERTISEMENT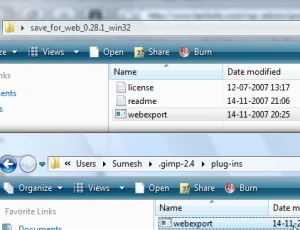 You will get a folder save_for_web_0.28.6_win32. Copy webexport.exe file from that folder to your personal plug-ins folder:
In Windows XP:
C:\Documents and Settings\\.gimp-2.6\plug-ins
In Windows Vista:
C:\Users\Sumesh\.gimp-2.4\plug-ins
If you use a different version of GIMP, the folder will be accordingly (for example, users of GIMP 2.4 will have a folder called .gimp-2.4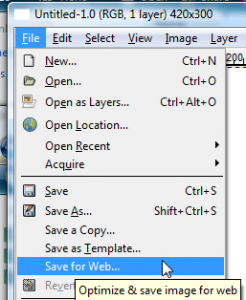 Restart GIMP. You will find Save for Web option in File menu in any image editing window (not the main GIMP window).