Google recently launched a music search, where you can search for Indian songs in various languages. Google hopes to reduce music piracy (which is high in India).
Initially, only Hindi (Bollywood) songs will be available, and will be expanded to include

other languages later. You can search for songs by title, artist, album etc., and Google will return a list of links from which you can stream full songs for free. The songs are offered by partners like in.com and Saregama. Also on the home page are a tiled list of popular/recent films, complete with cover art.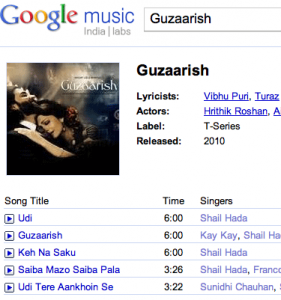 So, head on to google.co.in/music. From my testing, the songs are of good quality and usable. For users with decent internet speeds, this is a great alternative to downloading pirated songs, and of course eliminates the guilt factor.
I must admit, that the music model seems strange. Perhaps, Google hopes for a loyal fanbase, and display "Buy this album" links on search pages when it launches the rumored Google Music service.