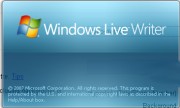 Windows Live Writer is one of the most sought-after offline blogging tools. Perhaps one of the few Microsoft products that has been embraced by the community (and one which performs optimally), Windows Live Writer started out as a not-so-great application, and improved with each version.
Some of the reasons for Live Writer's popularity is its range of plugins and extra functionality (adding new categories and tags). To install Live Writer, you must have the .net framework (download the latest here [mirror]).
When you execute a normal downloaded file, you will find that it proceeds to download the Live Writer application (to install it). However, it gets stuck at 99%. If Windows Live Writer has repeatedly stuck/interrupted at 99% download has occurred to you, then read on for the solution.
Fixing the Live Writer installer problems
Once you have downloaded the above mentioned files, download an older beta version of Live Writer (here). Then, install the beta version. Once you have completed the installation, uninstall it. No, that wasn't a typo, and I'll say it again – uninstall Live Writer.
Then, proceed to download and install the latest (non-beta) version from here (or use the non-beta installer if you have already downloaded it).
Complicated as it may sound, this can be summarized in the following:
Download and install .net framework.
Download and install any beta version of Live Writer.
Uninstall Live Writer beta.
Download and install the latest version of Live Writer.