Textarea Cache is one of those Firefox extensions that can save you a lot of hair pulling, because it auto saves whatever text you enter in HTML textarea elements (ie. text boxes).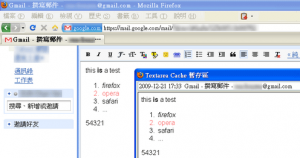 After installing Textarea Cache, any text you type in can be recovered in case of an OS or Firefox crash. This can be a boon for anybody who writes a lot online – bloggers, webmasters, writers, even avid commenters and social media users.
You can recover text by opening the Textarea Cache window – all text you entered previously will be available in plaintext.
Get Textarea Cache [Addons.Mozilla.org]
Image credit: Mozilla Addons site