Ever since Android rose up to be one of the top mobile OSes and Chrome became the most popular 'alternative' browser, one question that everyone has been asking is, why does Android not ship with a version of Chrome for mobile.
I personally found this question rather silly, as Google would want Chrome on Android built-in more than anyone else. It was pretty obvious that the reason they did not have a mobile version of Chrome browser was because much work had to be done to make it function just right on a mobile phone. There are so many things to take care of – user experience, aesthetics, and most importantly – performance – so that it does not turn out to be bloated (remember Firefox on mobile?).
Google Chrome for Android has a limited release today – for devices running Android 4.0 only, in the following countries:
Argentina, Australia, Brazil, Canada, France, Germany, India, Japan, Korea, Mexico, Spain, United States, United Kingdom.
India was not in the list of countries announced officially, but has been verified to be available. It is possible that Chrome is available in countries other than the above too – you might want to try it.
If you have an Android 4.0 device, you can install Chrome beta from the market link below. If you are one of those unlucky souls living in a country that is not supported yet, hit the second download link for a Chrome for Android beta .apk file.
Chrome for Android beta on Market
Chrome beta uses new technology available in Android 4.0 "Ice Cream Sandwich", which unfortunately means that the 98% Android users running version 2.3 Gingerbread will not be able to use Chrome. Since the APIs used by Chrome is built into ICS, this means that no amount of hacking by the talented Android devs around the world will get Chrome on pre-ICS Android devices.
Google Chrome beta for Android will focus on everything that made Chrome for PCs such a hit – quick startup, fast page loads and rendering, extensions and stability.
Among Chrome's features are new tab management, new UI, Chrome cloud synchronisation features, better bookmarking, incognito mode (found in desktop version of Chrome), and a "Link Preview" to click a link in a mass of text. Signing in to Chrome with the Google ID you use on your desktop gives you access to your desktop bookmarks, tabs etc. Google seems intent to unify the Chrome browsing experience across mobile and desktop.
Chrome is a thorough upgrade from the default browser on Android 4, and it will likely be the default in the next version of Android. The UI is not a copy of desktop Chrome, but rather designed for mobile, with its smaller screens and fat thumbs.
Chrome for Android screenshot walkthrough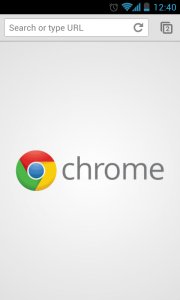 Upon installing Chrome, it asks whether you want to sign in to your Google account. If you hit yes, it proceeds to sync your bookmarks, history and other settings to your Android mobile.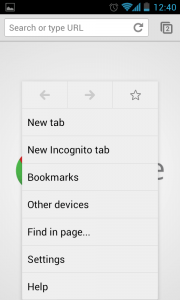 Tab management on Chrome is innovative and really slick – the little animations when you open a new tab, switch to another tab etc. are pleasing on the eye.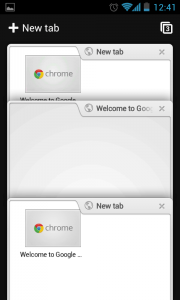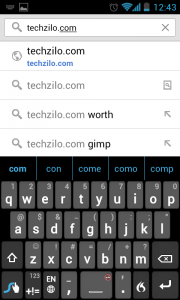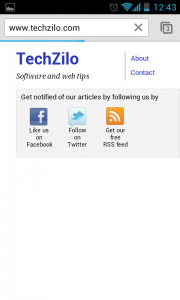 As is evident from above screenshots, the UI of Chrome is minimalistic and clean – blending very well into the general design language of Android 4 ICS. But it manages to retain visual elements of the desktop version of Chrome too.