RSS feeds are a 'tech' way to track sites. With the increase in prominence of RSS feeds, the number of feed readers(aggregators)have also increased. You can find online readers like Google Reader and Bloglines and desktop readers like RSSOwl and FeedDemon, the sheer number of choices can intimidate you.
I have moved back and forth between GreatNews, Google Reader, Feed Reader and FeedDemon, until finally deciding on FeedDemon. The reasons were as follows:
Online readers offer the convenience of seamless feed reading. You can read it on your desktop, laptop or cell phone/PDA (all three in my case), without any problems. There is also no need to synchronize your accounts or worry about whether one part of it has the latest feed that you added. Earlier, I used to export feeds as OPML from my desktop reader and import it in Google Reader if I needed to travel. However, usage becomes difficult if you have a slow connection.
Desktop readers can work efficiently even when net connectivity is slow, not to mention usage when offline. This can be useful in travel/transit with a laptop. However, synchronization is a problem for desktop readers.
Online feed readers save favourites/starred-items, while desktop readers do not.
FeedDemon solves all the above problems. It can synchronize with Newsgator Online, from where you can read your feeds on another computer(this is not a good idea, as Newsgator Online is not as good as Google Reader). You can also install FeedDemon/NetNewsWire on other computers and synchronize them with Newsgator too. It is also a desktop reader, eliminating the problems associated with online readers (especially since I am on a slower connection). There are other programs that offer online synchronization, but they do not offer the features or flexibility of FeedDemon (for example, reading on mobile devices/Macs). And finally, the favourites folder is also synchronized, which means that you do not lose them in any circumstances.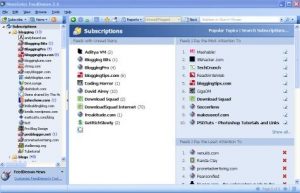 FeedDemon Start page
Interface
FeedDemon sports a clean 2 panel interface, with several useful functions and shortcuts. Apart from the useful synchronization functionality, it supports a 'My Clippings' feature that can be used to mark your favourite feed items.
Unlike many other desktop feed readers, FeedDemon does not go with the dull grey default color-scheme alone. In Tools > Options > Appearance (tab), you can change the skin to a more cheerful 'Office 11′ that imitates the interface of MS Office, and also changes to blue/green/silver variant depending upon which color-scheme you have selected in Start > Control Panel > Display > Appearance (tab). I would recommend the blue variant any day.
Ease of Use
FeedDemon is very easy to start using. There are proper text/icons for each function, and the menus are properly classified. To get started, go to File > Import Feeds if you have been using another reader. Then go to Tools> Options to tweak various preferences.
Problems
The only problem that I have noticed until now is that FeedDemon hangs for a few seconds if you synchronize feeds. Adding new feeds may also cause this, as they get synchronized too. But I believe that it is a small price to pay for the wonderful feature that synchronization is.
Rating: A solid 8/10 for the interface, synchronization feature and ease of use.
Note: Shortcuts and power tips for FeedDemon will be covered in a future post here soon.