Swype is an innovative keyboard for Android phones. It works by tracing the letters of each word in a continuous path, rather than hitting each key separately. This is particularly useful for those with fat fingers, or small screens.
More and more Android OEMs are integrating Skype in their custom Android skins, like Samsung with their TouchWiz and Motorola with their Motoblur UI. For everyone else, Swype is available for free download. Swype has been in beta testing for some time now, and earlier, they had a limited beta program where only a select few with invites would get to test Swype software. That has changed now, and anyone can download their appropriate resolution-dependent version of Swype from their website.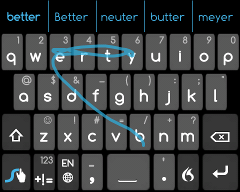 However, one sore thumb about Swype is that they do not provide full installer files (Swype .apk files) through their official website. What they have for download, instead, is a "Swype Installer" that downloads the actual Swype files through a data connection. This requires a fast and reliable 3G or Wifi connection, which some of us are not blessed to have (especially the 'reliable' bit!).
Here, we have a Swype installer – downloadable full .apk file. Hit the link below to get the file, and install it using any file manager (you have to ensure that "Unknown sources" under Settings -> Applications is enabled first).
This Swype version works on Android 2.3 Gingerbread, and also Android 4 Ice Cream Sandwich. Its dark looks are perfectly suited to ICS, which should serve you well if you are one of the lucky few who already run ICS on your phone.
Download Swype v5.apk (size: 23.23 MB)