Users are being migrated to the new Facebook profile, and I, for one, am not a fan of the new profile. Seeing as how it is here to stay, we will have to adjust with it. The row of tagged photos on top of my profile is not exactly my favorite feature, as I cannot control/moderate it before it appears.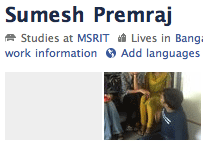 The photos lined on top of the new Facebook profile are five in number, and are the most recently tagged or uploaded photos of the user. By default, these photos are set as visible to friends of friends, another privacy headache.
There is no way to remove all photos. What you can do, is remove specific photos on a case-by-case basis. This is useful to remove yourselves from all those mass-tagged photos that you are not actually a part of, or other embarassing photos (!).
How to remove tagged photos

To hide a photo from the top of the Facebook profile, hover over the photo. An 'x' mark appears on top-right corner. Click that.
Note that this method only removes the images from your top stream, and not entirely from Facebook. The photos you removed will still be visible in Photos page.
Another way to turn these off completely is to tweak privacy settings. Set the tagged photos on top to appear to nobody with the following steps:
Click "Privacy Settings" option in the Account drop-down.
Hit "Customize Settings" under "Sharing on Facebook".
Go to "Edit Settings" under "Photos and videos I'm tagged in".
Hit the Customize link for "Who can see photos and videos I'm tagged in", then select only me.
Click Save Setting.