Google Web History helps you search across web pages you have visited before. For most, this is actually a feature and not harmful. However, if you are paranoid about your privacy, here is how to turn off Google web history.
Disable Google Web History
Once in your Google account (do so if not logged in already), visit google.com/history and click Pause on lower left.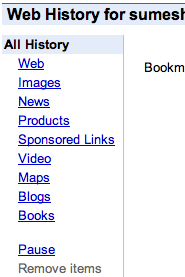 Once Web History is disabled, you should get a confirmation like so:

Note that Google may still collect data via Analytics, AdSense etc., for which you will have to use other workarounds (I will be writing about it soon here).