In Mozilla Firefox, backspace key functions as a keyboard shortcut for back button – to take you to previous page loaded in Firefox.
This might be helpful for many, but I keep hitting the backspace button by accident, sometimes even leading to loss of data (although I have since found a Firefox addon to auto-save text entered into text boxes).
Disable backspace in Firefox
Type about:config in Firefox address bar. If you are using about:config for the first time, click "I'll be careful, I promise".
Enter browser.backspace_action in the filter field.

Double click the key that comes up. Its default value is 0.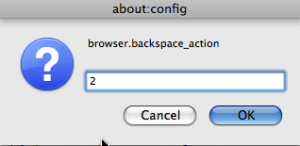 To turn off Back action, change the value to 2. If you need to revert this change later, edit the value to 0 again.