"One small fling for a bird,
one quantum leap for birdkind"
is how the Angry Birds Space site introduces you to their new game.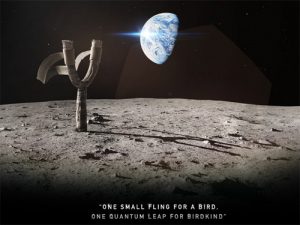 Indeed, Angry Birds Space could be a quantum leap for the popular game franchise – it is only the second major release of Angry Birds. The plot has moved on from birds trying to recover eggs from pigs on Earth. The new setting is the moon, which they tease adequately in the images and videos on their website.
This time, Angry Birds will feature tie-ups with NASA and National Geographic Channel (space and wild animals?). More details will be revealed on March 8 by Rovio, the game's creators.
Download Angry Birds Space apk installer file
Angry Birds Space is available for free on the Google Play Store (link), but if you need the .apk setup file for some reason, get it from the download link below. Note that this might not always be the latest version of Angry Birds Space, and it is best to install it directly from Google Play Store (formerly Android Market). Use the setup file below only as a last resort if you cannot install it directly from Play Store.
Download Angry Birds Space apk file
Angry Birds Space Ad free apk download
Annoyed with the huge ads on Angry Birds Space? Try these apk installer files that are ad-free versions of the popular Rovio game.
Download Angry Birds Space ad free apk
About Angry Birds
Angry Birds is a wildly popular puzzle game, primarily designed for touchscreen mobile phones. It debuted in December 2009, and in just a year, has been 500 million times on possibly every device you could imagine – iPhone, iPad, Android phones, Blackberry, Symbian, Windows Phone, Playstation Portable and even smaller platforms like Maemo and WebOS. Recently, Angry Birds was released as a web app on Google Chrome too.
Rovio, makers of Angry Birds, have followed a "keep users happy and rewards will follow" strategy, by releasing a flood of free updates to the game. Every minor update brings more levels, and some are even holiday themed (Christmas and Halloween specials).
Angry Birds Space: Launch date
Update: Angry Birds has been released! Get the game from links above.
It will be released on March 22 – check back as we add more information about the game, more videos and screenshots, and direct download links for every possible platforms.
Angry Birds Space: Storyline
The new game follows angrybirds into space after their eggs were stolen by a giant claw. The game introduces new physics that is a result of zero-gravity in space.
The birds are weightless and free-flying, and if shot in a straight line, it will affect other objects it comes across in its trajectory. This introduces a new level of gameplay previously unseen in Angry Birds, as gamers now have to contend with many more calculations and interferences while playing this game.
Levels are named Pig Bang, Cold Cuts, Danger Zone and EggSteroids. In typical Angry Birds fashion, more levels and content will be added rapidly.
There is a total of 60 levels, with Danger Zone being the hardest with 30 levels.
Launch device
Angry Birds Space will debut on Samsung's flagship Android smartphone, the 5.3″ monster phone. It is the biggest and most powerful Android phone to date, and both the game and the phone will get heavy publicity with this tie-up. Smart move by Rovio and Samsung (more so the latter), I would say.
Angry Birds Space wallpaper
If you are a fan of Angry Birds, you can even get the official HD wallpaper from the Space website (click on image below to load full HD wallpaper).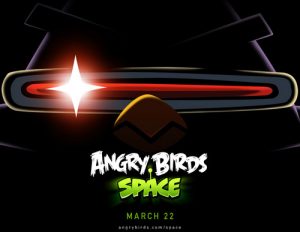 Play Angry Birds with a real slingshot!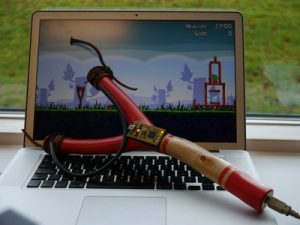 As proof of Angry Birds' incredible popularity, mbed has a page on building a real wooden slingshot to play Angry Birds with. Tired of playing on the touchscreen or mouse all the time? You might want to make one of these. If Angry Birds keeps growing at current rates, we could see this and all other crazy accessories for the game being sold.