URL shorteners are a saturated niche now, with Tiny URL being one of the first players, and better entrants (like bit.ly that offers statistics and u.nu that has the shortest domain name) coming in every day.
The only worry with all these URL shorteners is about their existence. URL shorteners have little monetization, and one would have to wonder whether they would be around after, say, 3 years. If any of them go offline, it would take down a lot of shortened links with it. For your own purposes, a self-hosted (installed on your web hosting account and owned by you) URL shortener works best.
Shorty: Make your own URL shortener
Shorty is one such URL shortener software that you can install on your website. Shorty was born from a blog post by Khoi Vinh, a respected designer who works as designer for NYTimes.com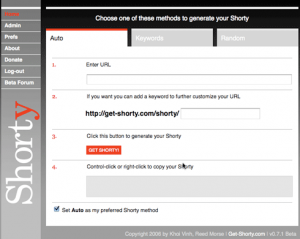 Shorty has a pleasing design, and can be installed on root or subdirectories. Overall, it is a very useful tool – some popular websites have already used it to shorten only their own URLs.