CCleaner is my favorite crap cleaner. It does a good job of cleaning up a lot of files and software that are useless and bloated.
Also, it is fairly accurate, so you rarely end up with a broken computer after running CCleaner (unlike some other aggressive cleanup apps out there). Being cautious has its price too, because sometimes CCleaner skips files and folders it should have removed.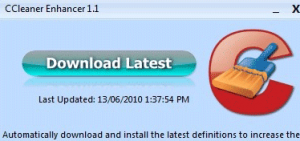 CCleaner Enhancer is a handy CCleaner extender, at only 220 KB, that adds new rules to CCleaner while cleaning. It downloads the rules online, and you can probably remove it once it is over.
Download CCleaner Enhancer [TheWebAtom] | Mirror link [MajorGeeks]
Update: The official site of CCleaner Enhancer is offline due to excessive traffic, so I have added a link to a 3rd party mirror. Use it if the first link does not work.