Apple iAds has been running for the last few days. While Apple claims that iAds are a different experienec and will make you want to watch ads, the fact is that nobody likes ads, particularly on devices like iPhone where the screen space is limited.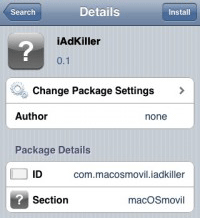 The only concern when you block ads is that a lot of developers who sell their iPhone apps free or subsidized will loose out on revenue. I request that you disable/remove iAds only if it is unavoidable – if your data plan is severely limited, for example.
Obviously, Apple would not accept any application/hack to ban iAds from the iPhone, so this works only on jailbroken iPhones under Cydia application.
Step 1: Open Cydia and add Cydia/APT URL http://apt.macosmovil.com to Cydia sources.
Step 2: Search for and install iAdKiller app. This app helps you to disable/block ads in iPhone and iPod Touch running iOS 4.