Not long ago, 3D printers were devices mainly used by scientists. However, with the advance of technology, these devices are becoming more affordable and more popular among casual computer users. While scientists use them for various scientific projects, 3D printers can also be used for fun and hobby. Do you want a figure of your favorite video game hero? Find a CAD model or make your own and print it. Simple as that!
The other side of the story is that those printers are not yet very popular among us. Therefore, it's easy to make a mistake when buying one and neglect some of the essential specifications. In this article, we will try to clarify everything that you need to know and make the buying process as simple as possible for you. Be sure to read all the tips that we provided first, and then check out the best printers on our list.
Know what you need to print
Before buying a 3D printer, you need to know what do you want to print. It's not the same if you're going to print a phone case or an industrial part. Depending on that, you need a different printer to suit your needs. Let's talk about some of the basic things that you might want to print.
Household objects – those are most of the objects that you can expect to find at your home or the office. Since those items are "light" and not supposed to endure much sunlight or moisture, your best choice is an FDM printer with PLA or ABS for filament. Also, if you want to print an object to use it with food, you should use filaments like PETG, with food-safe epoxy coating.
Outdoor objects – if you intend to print an object for outdoor use, for example, if you want to create a plant pot, you should keep in mind that it should be able to withstand nature. Sun, rain, dirt, and other natural factors shouldn't affect the object. Therefore, our advice is to use materials like ABS, since PLA or PETG would break down too easily in the sun.
Tools – printing tools can be a bit tricky. Some tools should be able to endure the force that you apply to them, so you should always choose the right material. For example, with enough fill, ABS prints on an FDM printer can be pretty good. However, if you need a professional tool, an FDM printer might not be able to cut it.
Artwork – when it comes to artwork, our top advice is to avoid FDM printers. Although it can still make some beautiful stuff, you should consider investing in a resin printer. These are designed to provide perfect details and accuracy.
What type of printer do you need?
We talked about FDM and resin printers. There are a few more, so let's mention those and see which printer does what.
FDM – Shortened from Fused Deposition Modeling, the FDM printer works by heating the filament and pushing it through a tube, which then makes the shape in any of the three (X, Y, Z) axes. These printers are not very smooth and are usually used by hobbyists. Most of the FDM printers are "Cartesian" style because they provide better control and also better results.
SLA – Stereolithography printers use photo-solidification, which is a process in which a chemical reaction creates layers. It works by focusing the photons to a specific point, which makes the SLA resin solidify. SLA printers are very precise, which allows for a perfect smoothness and subtle details.
DLP – Digital Light Processing printers are similar to SLA; they both work by creating objects layer by layer. Although there ARE differences, it would require going into a lot of details, so we will avoid that for now. After all, they both offer an excellent finish quality and a perfect smoothness.
SLS – Shortened from Selective Laser Sintering, SLAs are printers that create new layers by focusing a laser to a specific point inside a small vat of powder. While the laser moves to the next position, the powder solidifies, and so on. It's an ideal printer for creating complex industrial parts or other types of detailed objects.
What materials do you need?
Basically, there are two types of printers: filament and resin printers. The first ones use spools of a filament made from various materials, while the resin printers use special liquid resins to create objects. So let's see the difference between materials.
PLA – Polylactic Acid is a plastic derived from plants. The material is excellent for household stuff, but never use it for outdoor objects. PLA degrades if exposed to the sun, so don't try to make plant pots out of it.
PETG – It's a food-safe plastic, shortened from Polyethylene Terephthalate Glycol. However, although the material is food-safe, it doesn't mean that the printed object is food-safe, too. While printing, FDM printers can create layers of moisture and bacteria, so be sure to keep that in mind. Objects made from PETG should be well finished in a special food-grade epoxy before you use them for eating, or anything food-related.
ABS – Acrylonitrile Butadiene Styrene is plastic, but it's very sturdy. It works best with an enclosed 3D printer since it keeps the ambient temperature warm, but you should use it only when the room can be properly ventilated. It's also a very good material for outdoor items.
Standard resin – When it comes to resin printers, we should mention standard resin first. It usually comes in clear, white, or gray color. Although it's not sturdy enough for final products, it's a pretty good material for creating prototypes. Besides, you can use it to print various desktop gadgets that don't have to withstand any type of force or pressure.
Tough resin – Those are usually used in engineering since they are more physically resistant and can withstand high impact usage.
Medical-grade resin – Those resins are very popular in medicine. You can find items made from medical-grade resin being used for various purposes, from hearing aids to custom dental work.
What features should you look for?
There are various features that you should look for in a 3D printer. Let's analyze them all.
Safety – When it comes to working with hot electrical equipment, safety is the first thing that you should care about. For example, a very useful feature is an automatic nozzle cooling when the printing is complete. Also, you should aim for a printer that automatically retracts the nozzle when printing is paused or complete. You don't want to damage the print with an excess filament.
Quality User Interface – A great user-interface can take your 3D printing to a whole new level. It's so exhausting when you spend most of your time navigating a menu with a rotary knob when you could be using a touchscreen and simply select the option that you want. Have in mind that even the cheap FDM printers can come with a touchscreen, so it doesn't mean that you have to save up a bunch of money for that feature.
Resume Print Feature – Your printing can be interrupted due to various reasons. Believe it or not, it's not mandatory that all printers have a resume function. With some 3D printers, you will have to start all over again and therefore lose both your time and material. You should always aim for a printer that has a Resume feature in case of unplanned interruption.
Heated bed – You have probably heard of this feature, but maybe, you are not completely sure what it is. The fact is when printing a 3D figure, the first few layers are critical since those are the foundation of the object. A printer with a heated bed will ensure that the foundation is solid and well-formed, but finding the ideal temperature will differ between filaments, so you will have to do a bit of experimenting.
[table id=20 /]
Top 6 3D Printers in India
Before we list the best printers that you can buy in India, you should keep in mind that the high price doesn't always mean the best quality. We have spent 100+ hours testing various printers, and now, we are presenting you with the best options, regardless of the price.
#1 Dremel 3D40
Weight: 24kg | Dimensions: 40.4 x 51.6 x 40.6 | Supported Materials: Dremel PLA | Connectivity: USB, WiFi, Ethernet | Max Accuracy: 50 microns | Display: 3.5-inch touchscreen
+ Excellent print quality
+ Software is ideal for both beginners and professionals
+ Safe, closed design
+ Very quiet
− Too pricey

When testing 3D printers, we usually consider various factors that lead to the best results. Therefore, we pay a lot of attention to the ease of setup and use, print quality, software, materials that the printer uses, connectivity, and so on. Dremel 3D40 has satisfied us in most of the mentioned factors. It's beautiful! So, let's see what this device has to offer.
At first, we should mention that although 3D40 seems like it's primarily made for engineers, product developers, and other professionals, it is also excellent for enthusiasts. So, if you are a hobbyist who doesn't find money to be the problem, this printer is the best choice. Dremel is over 80 years old toolmaking company, which has a long experience in making stuff like screwdrivers, electric drills, wood sanders, and so on. As you can notice, all of the Dremel products are used to BUILD things. The same applies to their 3D printers.
Dremel 3D40 is a pretty large printer compared to most of the others. With 15.9 x 20.3 x 16 inches, it's ideal for a table or a workbench, since it also weighs around 24 kilograms. It might be too heavy and bulky to keep in in the living room near your family computer. It also comes with a 4.5-inch touchscreen and can print from a USB drive. Although the touchscreen is not perfectly responsive, it's still pretty good and useful.
This model brings an improvement when it comes to filament colors. Older Dremel printers were very limited when it comes to the color range, but with 3D40, Dremel introduced some new color choices for PLA filament, while you can also use an Eco-ABS and nylon filament, as well as third-party filaments. Loading the material (filament) is very simple, and requires no specialized knowledge or experience.
The printer offers various connection choices to keep everyone happy. Therefore, you can print via the USB, or by connecting your computer via USB, Ethernet, or using a Wi-Fi connection. Also, you can use a Dremel Print Cloud, in case you don't want to connect your computer directly or you don't have a USB device.
You also get very good software, which uses the open-source Cura platform, supported in various 3D printers. A good thing about this software is that it's relatively easy for beginners to get used to, but also, it allows you to experiment a lot, making it very good for professionals, too. Print resolution ranges from 300 microns to 100 microns. We printed 12 objects and noticed that there is no significant difference between standard (200 microns) and high resolution (100 microns), and the best of all, there were no misprints.
When it comes to safety, being an enclosed printer, it's much safer than any of the open-frame printers in the market. The front door is closed while printing, so you don't have to worry about accidentally touching the hot materials. It's also tranquil, and we could barely hear it from 30 feet away. It's an excellent but pricey printer, ideal for both professionals and enthusiasts who can afford it.

#2 ELEGOO Mars
Weight: 6.8kg | Dimensions: 20 x 20 x 41 | Supported Materials: Resin Materials | Connectivity: USB | Max Accuracy: 47 microns | Display: 3.5-inch touchscreen
+ Affordable
+ Straightforward to use
+ Compact design
− A bit loud at the beginning and end of printing

If you are looking for an affordable printer with the performance of a professional one, look no further. ELEGOO Mars is great for both newbies and enthusiasts. Although it's a bit loud at the beginning and end of the printing process, it's got many features that made us fall in love with it.
The truth is that most of the affordable printers use FDM technology, while resin printers cost more. That's one of the main reasons we decided to test ELEGOO Mars – it uses resin, and it's affordable. Don't forget that resin printers are excellent for precise printing, high details, and smooth surfaces.
We tested it by printing a few very detailed objects, such as a toy castle with many details, and we were amazed by the results. It provides a 0.047mm X/Y resolution, which is miles ahead of a standard FDM printer. Since it uses resin, it's much better at providing sharp edges, such as the top of the castle tower. The same object printed with FDM printer leads to less sharped edges, which literally had a small surface on top, instead of a single point.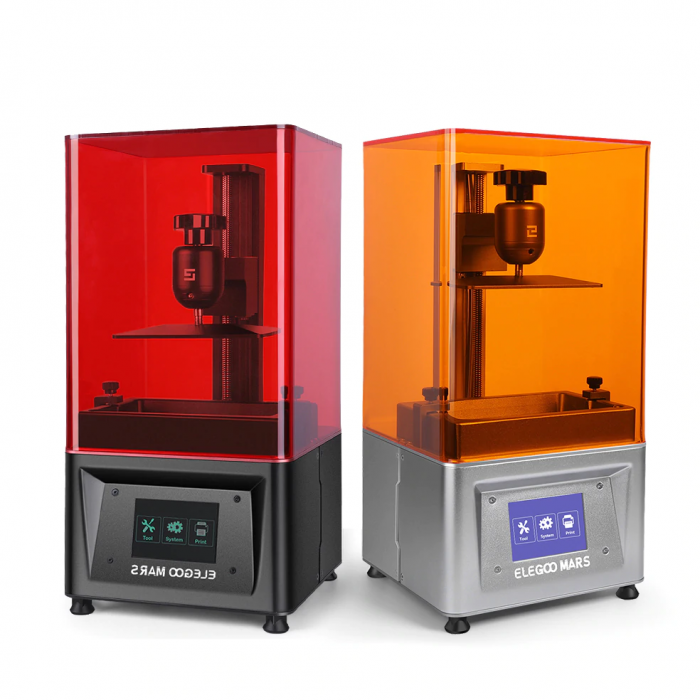 Another great thing is that ELEGOO Mars is very compact, with dimensions of 20 x 20cm, and 41cm in height. It has an aluminum base that matches perfectly with the orange (or red) UV cover and looks very nice on a computer desk. However, it also depends on the person's taste. On the front side, there is a very precise touchscreen, which also amazed us, considering the printer's price. It's pressure-sensitive, which is very useful if you work with nylon gloves. So, instead of a light touch, you have to apply a slight pressure to "tap" the button. To print, you need to transfer objects to a USB drive, and then plug the USB on the back of the printer. On the backside, there is also the power button and the power cord.
When buying a new 3D printer, sometimes, you will have to buy additional stuff before you perform your first print. However, it's not the rule with ELEGOO Mars. It comes with a tool kit, which includes stuff like gloves, masks, filter funnels, hex keys, measuring cups, wire cutters, scraper, and a flash drive.
Since STLs and similar 3D files can't be sliced with FDM printer software, you won't be able to use Cura with Mars. The company recommends using ChiTu Box, but you can also use a third-party slicer if you prefer. It might take a bit of trial and error until you hit the sweet spot, but then, the printing process is simple and painless. Simply level the build plate and pour the resin. Then, you need to start the printing process by selecting the file (object) to print from the USB drive, and of course, clean it up after it's finished.
Shortly, ELEGOO Mars is an excellent printer at an affordable price. It looks very good and provides excellent performance, while it's also compact in size and simple to use.

#3 Creality Ender 5
Weight: 11kg | Dimensions: 44 x 41 x 46.5 | Supported Materials: PLA, ABS, PETG, TPU, HIPS | Connectivity: SD Card, USB | Max Accuracy: 100 microns | Display: LCD
+ Hackable and upgradable
+ Achieves higher speeds without any quality problems
+ Delivers high-quality prints
− Filament loading can be tricky for a beginner
− There could be a bit more functions in the printer menu

The Ender 5 is like an upgraded version of Ender 3 Pro that we all wished for. It's not the best in the market, but with a little calibration and experimenting, you will get excellent results. The Ender 5 is an excellent, yet affordable tool for all the hobbyists and enthusiasts, who don't need to print any professional stuff.
It's a box-like printer with a bit large dimensions, so it might not be ideal for everyone's computer desk. The printer has outer dimensions of 440 x 410 x 465mm, and a build volume of 220 x 220 x 300mm. It comes with the same X and Y measurements as the Ender 3, but since the printer is bigger, it allows more space for the Z-axis. Each axis has a dedicated motor, while the Y-axis also drives both sides of the gantry which allows a smoother movement. We should also mention that the Z-axis is mounted with a big 8-mm rod.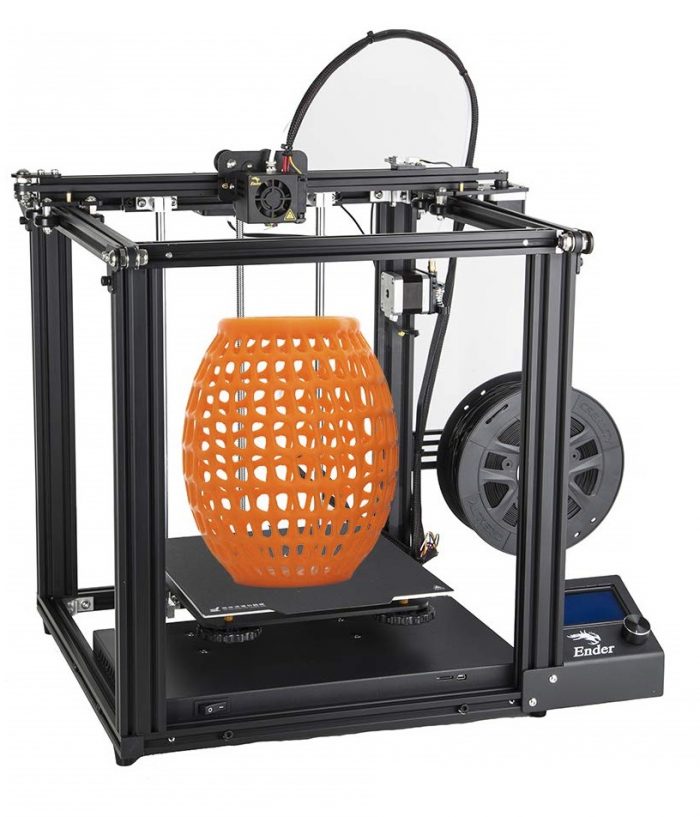 Since Ender 5 looks the most like Ender 3, let's do a little comparison. At first, we noticed that Ender 5 has almost the same extrusion system and bed as Ender 3, but in a completely new frame. With a taller Z-axis, we were also able to print taller items, which is definitely a plus. Since we had Windows on our PC, we were able to start the printing as soon as the printer was assembled. However, Mac and Linux users would have to set the slicer profiles by hand. Besides, unlike Ender 3, this printer offers an open-frame design, so the magnetic bed won't collide with the frame anymore. Ender 5 delivers better prints even without calibration, mainly because the Ender 3's bed was difficult to calibrate.
When it comes to software, let's mention that this printer provides an SD card slot that holds a Cura software. However, as we mentioned, Mac and Linux users will have to enter all the measurements and profile data by hand, which is not ideal for a complete beginner. Luckily, there are many tutorials online that explain the whole process step-by-step. Also, we noticed that the popular Simplify 3D software is not supported by Ender 5.
After many hours of testing, there were a few things to conclude. At first, we were overly satisfied by the dimensional accuracy, bridging, XY resonance, and Z-axis alignment. No bridge contacted the surface beneath it, and also, there was no visible layer registration effect. However, we noticed that overhands of 15 and 30 degrees showed some irregularities, but we hope it's due to our personal profile settings. Shortly, Ender 5 is an excellent printer for the price, easy to assemble, with high printing speed, and although filament loading can be tricky, it all becomes a routine after a couple of times.

#4 WOL3D Creality Ender 3
Weight: 7kg | Dimensions: 22 x 22 x 25 | Supported Materials: PLA, PETG, ABS | Connectivity: N/A | Max Accuracy: 100 microns | Display: LCD
+ Very affordable
+ Open source
+ Tight filament path
− Slightly uneven base, which requires calibration via trial and error

We choose Creality Ender 3 because it's the best printer in its price segment. Although it costs much less than the previous one, it still provides a decent print volume, it's simple to assemble, and comes in a compact shape.
There are various features that make this printer stand out from the crowd, such as the build volume of 220 x 220 x 250mm, and a power recovery mode. Besides, it has a pretty tight filament pathway, which allows easier print with flexible materials. All of these features are sometimes difficult to find in even more expensive printers.
We tested the printer for a few days, and when it comes to printing performance, it exceeded our expectations. During testing with PLA, PETG, and ABS filaments, we managed to successfully print all the objects that we wanted. There were some adhesion and slight issues with ABS, but we managed to make everything work completely fine.
The printer is very easy to assemble. Yes, it requires a bit of manual calibration, but after a few attempts, the calibration was perfected. We noticed that there are large bed leveling knobs, which made the whole process a lot easier. However, we were a little bit concerned about the uneven base of the printer. The problem was solved by placing a wedge under one corner, but still, we were concerned. The stability is an essential part when it comes to quality 3D printing.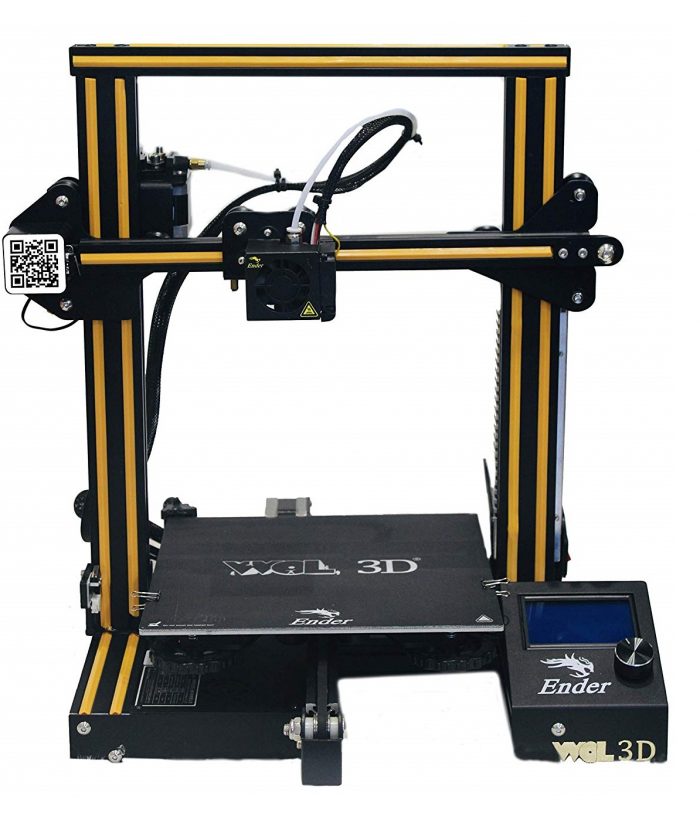 To be honest, the most appealing feature of this printer was, at first glance, its price. In some stores, it costs even less than its predecessor, Ender 2, which is the reason why we had to compare these two. Ender 3 still retains that specific CR-10 vibe, by featuring aluminum extrusions that compromise the frame, and a screw that drives the axis from the left side of the frame. It also features a big-sized printing bed, which is almost two times bigger than the one in Ender 2.
Another feature that we really like is its ability to fully recover and continue printing after losing power. It's not a new feature among 3D printers, but it's definitely something that we didn't expect in a printer in that price range. On the right side, there is an LCD display with the control wheel. There is no touchscreen, but the interface is pretty simple to use and understand, and we didn't face any problems with that.
The printer uses Cura software, which you can download via the included USB. However, it's only available for Windows, which might be annoying if you are a MAC user. In that case, you will have to find a way around. Also, an important note is that Ender 3 is recognized as a custom printer to Cura. It means that you will have to change the nozzle diameter manually to 1.75mm. If you skip that small step, it will lead to a disappointing print. On the other hand, when it comes to all the other settings, everything worked very smoothly, and there are also lots of tutorials on Youtube. Also, don't be afraid to experiment on your own until you reach the sweet spot.
Ender 3 is an excellent option for beginners, as well as professionals who want to work on the budget. It does have its flaws, such as a slightly uneven base, but it's still the best printer in its price range.

#5 Creality Ender 3
Weight: 5kg | Dimensions: 40 x 40 x 60 | Supported Materials: ABS, PLA, TPU, PETG | Connectivity: USB | Max Accuracy: 100 microns | Display: LCD
+ High-quality output
+ Decent build volume
− Some assembly is required
− Not the best Ender 3 model, feels kinda basic sometimes

Above, we mentioned the upgraded version of Ender 3, made by WOL3D. There isn't much to say about Ender 3 since it's a pretty affordable printer that provides a pretty decent print quality. Let's mention some of the key features that we noticed while testing.
At first, the printer comes with a fully open-sourced software that you can edit to the infinity and beyond. If you are a beginner, you should stick to the basics and experiment bit by bit, but if you are experienced, it leaves you with unlimited possibilities. Besides, we were amazed by the vibrant community that consists of the best designers and modelers from all around the world.
Also, similar to some printers that we mentioned, Ender 3 offers a resume print technology. So, in case of a power blackout, or anything that might interrupt the printing process, you can continue without a problem when the power comes again. We also like the low friction and dimensional stability that the printer provides, mainly due to the ball bearing wheels that were built with high precision.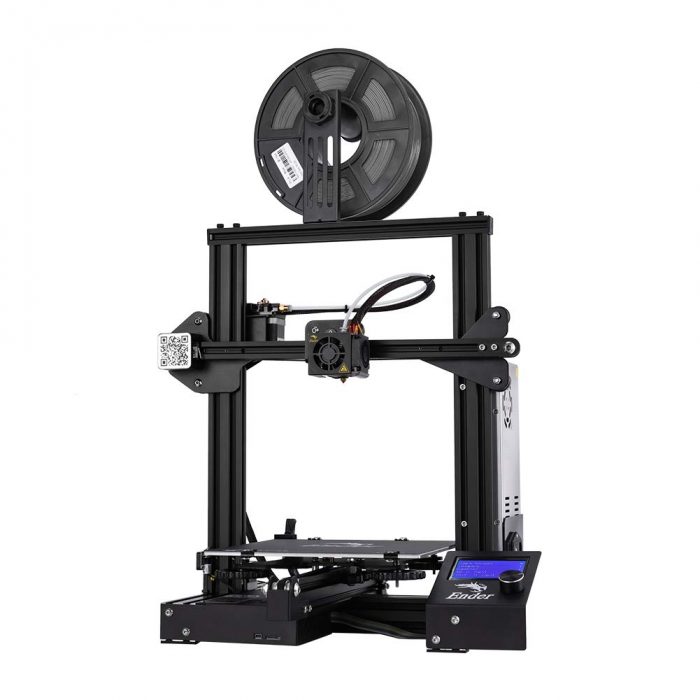 Another interesting thing is that the heating plate surface reaches 90 degrees in less than 5 minutes, which is awesome. The printer also comes with high, yet safe power, with 2 separate fuses. It protects the printer from any type of power outage. On top of all of that, the printer comes with a 1-year limited manufacturer's warranty and a lifetime of technical assistance.
There are a few things that we don't like about Ender 3. At first, it's kinda very basic compared to other Ender 3 models. Besides, the manual leveling might be a bit difficult for beginners to make great prints, but still, after you find a sweet spot, you will be satisfied.

#6 Anet A8 3D Printer
Weight: 10kg | Dimensions: 51 x 35.4 x 21.5 | Supported Materials: ABS, PLA, Nylon, Woodfill, PVA, PP | Connectivity: USB | Max Accuracy: 120 microns | Display: LCD
+ Builds long-lasting props
+ Compatible with a wide range of materials
+ Pretty decent build volume size
− Only for beginners
− Build quality could be better

Probably the most economic printer on our list, yet, still worth your time and money. Among all the printers in the same price range, Anet A8 probably offers the largest build volume, of 300 x 220 x 220mm. It's also compatible with PLA, PETG, HIPS, and ABS, as well as a wide range of materials like carbon fiber, glass, brick, and wood.
Anet A8 comes with around 30% faster and a lot quieter printing that any other printer in that league. It also supports offline printing, a touch-based auto-leveling, and resume function. The platform heats reasonably fast, and the printer also comes with popular Cura software and is compatible with Windows, Linux, and Mac. It's very good since even some of the more expensive ones are compatible with Windows only.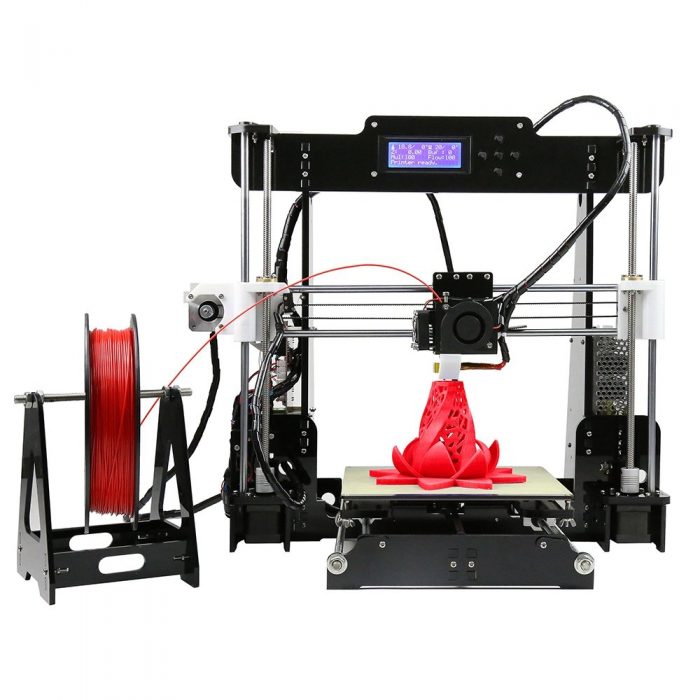 When it comes to design, some people can find it too simplistic. However, from our own experience, we noticed that minimalism often leads to better results and ease of use. If you notice any problems after assembly, such as a toothed belt not being fastened enough, you can easily correct an error without having to open any frame and dig into the details.
However, there are some things that we found to be the downsides of this printer. For example, you should note that Anet A8 is ONLY for beginners and not for professional printing. If you are a professional, you will be disappointed with the results. Then, the warranty is not clearly specified by the vendor, and also, some people reported board crashes after several times of use. Although it didn't happen to us, it's still a bit of concern. On the other hand, you should have in mind that the printer is incredibly cheap compared to most of the other printers. If you need a 3D printer just for fun and don't want to spend tons of cash, it might be a pretty decent choice.

Best 3D Printers in India
Best Budget 3D Printer in India
If you never used a 3D printer before, chances are, you don't want to spend tons of money only to see if you will like it or not. 3D printing can be quite interesting, but still, it varies from person to person. Currently, the best 3D printer on a budget in India is Creality Ender 3. It provides the best ratio of price and quality.
Best 3D Printer Under Rs. 50,000
Among all the printers that cost less than Rs. 50,000, the best that you can currently buy is 3-Idea Imagine Create Print Anet E16. Yes, the name is a bit long and the company is not the most popular one, but it's a very good choice.
Best 3D Printer for Beginners
Beginner printers are usually very affordable and offer fewer features. However, we did research to find the best printer for beginners that still provides decent features, and our top choice is Anet A8, which we already reviewed. It's very affordable, and if you are a beginner, you won't regret buying one.
FAQs
What is the best 3D printer brand?
There are various good, popular printer brands. However, when it comes to India, our top choice is Dremel, and right after, Creality. They are excellent!
Is the 3D-printing business profitable?
It depends on many factors. At first, let's state that the 3D printing business is becoming more and more popular on the market, and people are making decent money each year. Another great thing is that there is no big competition since not everybody has a 3D printer. On the other hand, to be successful in literally ANY business online, you need to make a nice shop, do audience research, and create a proper marketing plan.
What materials can be 3D printed?
It depends mainly on the printer type. Resin printers can use only resin materials, while filament printers can use PLA, PETG, ABS, TPU, HIPS, and many more. However, before buying a material, you need to consider what type of object you need to print. Our guide at the beginning of the article will help you out!
Conclusion
We have come to an end, so let's sum it up. If you are a professional, who needs to do professional work and is ready to pay a lot for an excellent 3D printer, your best choice is Dremel 3D40. On the other hand, if you want a printer that is fine for professionals, but also much cheaper and good for enthusiasts, you should aim for ELEGOO Mars. All of the other printers are good, cost less, but also provide fewer features.
If you think that there is a good 3D printer that we didn't mention, please let us know in the comments below.