Many owners of Android tablets and phones use their devices to read books. Using the built-in programs of your device (if you have any) isn't always a good idea, but with the right apps reading from a tablet or a smartphone can be a real pleasure.
But which are those "right" apps? After all, Android Market has a big number of such programs, and trying all of them to find the best ones can be a real waste of time. Well, anyway, I've already tested most reading apps available from Android Market, and in this article I'll try to sort out the best ones among them.
1. Aldiko Book Reader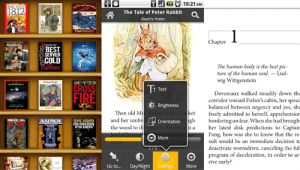 Aldiko is one of the most famous ebook readers for Android devices, available in both free and paid ($2.99) versions; I guess even those who're not really interested in ebooks have heard about this app at least once. Aldiko can't boast a big number of supported file formats, but it can work with PDF and EPUB documents, which is a rather rare thing.
Aldiko has a nicely designed interface and a shelf – you can import the files from your SD card or phone's memory to it. The app also offers two different modes – day (the usual one) and night (white text on black screen), and a number of options to lock the orientation, adjust the brightness, font and margins and so on.
Basically, Aldiko Book Reader is an easy-to-use ebook reading app for both Android smartphones and tablets, perfect for everyone who's looking for a simple and light program.
2. Moon+ Reader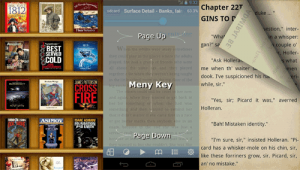 Moon+ Reader is one of two reading apps I frequently use on my Samsung Galaxy S2. One of the most useful features it has is the ability to automatically scan your phone's memory and SD card to import the books to the shelf. It supports a big number of file formats including .txt, .html, .epub, .umd, .fb2 and .chm; it can also extract the books from .zip archives, which can also be very handy sometimes.
The app has 11 pre-installed themes to customize the background, fonts and brightness; day/night and outdoor/indoor themes are also included. There's also a funny animation of turning pages, but it seems to slow the app down, so I think it's better to deactivate it.
I use the free version of the app, but if you want a pro version that supports the Text-To-Speech technology and is ad-free, you can buy it for only $4.69.
3. Cool Reader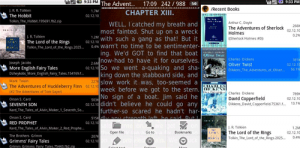 Cool Reader is my most favorite ebook reading app, and I use it even more often than the Moon+ Reader, since it's really cool. It supports a huge number of file formats (including .fb2, .doc, .txt, .rtf, .html, .chm, .tcr, .pdb, .epub, .prc, .mobi and many others), it doesn't have any main interface or shelves – it's just designed for reading, nothing else.
Cool Reader offers a big choice of backgrounds (more than 50) for your books, but I think the default one (old book) is the best – your eyes don't get tired when you look at it, and you can read for hours. The font type and size can also be changed if necessary, and there is a huge number of other useful features like taking notes, looking words up in a dictionary, jumping to one of the pages (or to some "percent" of the book) and many others.
Cool Reader can be downloaded for free, but you can donate $1-10 to the developer to support him.
These were the best ebook readers I've stumbled upon during the last months, and I hope this little list was useful for you. Android Market offers good comic book readers, too, but we'll discuss them in a different article later.