FTP is used for transfer of large files. Bloggers and webmasters use FTP frequently for uploading files to their server space all the time. FTP transfers usually involve some software installed on the computer. The method usually involves connecting to a particular host server URl, and entering the username and password for access. FTP transfers may be primitive (they do not have much security), but they are still widely used.
Imagine yourselves in this situation : you are at a friend's house or a browsing cafe, and need to access your server immediately (perhaps for uploading WP-Cache during a spike, for example). Do you wait until the download of FTP software is complete? That is a complete waste of time.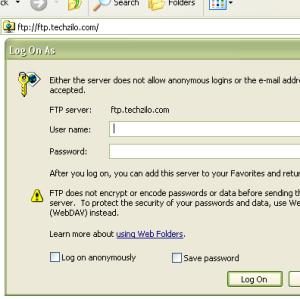 There is an easier way to access FTP servers – without any third-party software. All that you require is the humble Windows Explorer or Internet Explorer (either of them can be used). To access any FTP server, enter the following (replace server with the domain/subdomain):
ftp://ftp.server.com
Once you enter this, a dialog box will come up, and you can fill out the user name and password and click Log On.
If you're still not convinved of using this method, try out FileZilla, a free, open-source software (review of FileZilla)